Jack Blades | Rock N Roll Ride
by Ron Higgins
Staff Writer —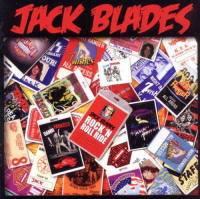 Rock N Roll Ride is the semi-biographical 2nd solo album by Night Ranger and Damn Yankees front-man, Jack Blades. Jack has been on quite an impressive ride for 30 years, beginning with Night Ranger's classic 1982 debut Dawn Patrol, and if this release is any indication, he has no plans to exit the ride any time soon!
Coming off the heels of last year's excellent Night Ranger release Somewhere in California, Jack releases a collection of mostly hard-driving, guitar-blazing tracks with the obligatory ballad thrown in. The songs are catchy, the hooks are big, the choruses are mammoth and the production is pristine. It's basically everything you'd expect from someone with his pedigree and he brings along some of his Night Ranger brethren and a few other rock and roll heavyweights to join the fun. Fellow Rangers Brad Gillis, Kelly Keagy, Eric Levy and Joel Hoekstra make guest appearances as does Cheap Trick's legendary singer Robin Zander who co-wrote one of the tunes and even adds his vocals to it. Additionally, Jack's son Colin contributed as did other musicians like Will Evankovich, Christian Cullen, Alan Hertz, and Whitesnake's Brian Tichy. Overall, it's not a perfect release but it's pretty darn good. Although he's been at it for over three decades, this release shows that Jack is still at the top of his game.
The album starts off very strong with two of the best tracks on the album kicking things into high gear. The lead track (and video) "Back in the Game" is a high-energy rocker that sets the tone for the whole album right from the starting gate. It features blistering guitar work and a big melody. Lyrically, it's an uplifting tune, advising that when you get knocked down, get back up and get "back in the game". Interestingly, Jack's son Colin lends his vocals to this track and is also featured in the video as a soldier. Two of his greatest inspirations are music and American military history so he combined the two into this song's video and dedicated it to all of the military heroes who have made the ultimate sacrifice for our freedom.
The second song is the title track and is another big rocker. As good as the opening track is, this one manages to be even better. This could easily be the lead track as it too sets the appropriate hard-rocking tone and has the advantage of being the title track and basically a summary of Jack's life. The chorus is extremely catchy and the crunchy guitar work is reminiscent of Blur's classic "Song 2". Drummer du jour Brian Tichy sits behind the skins on this one. Two songs in, and it's already clear that this release is something special.
Next up is the mandatory ballad "Hardest Word To Say." With landmark ballads like Night Ranger's "Sister Christian" and the Damn Yankees hit "High Enough" the bar is set pretty high for any Jack Blades ballad and this one definitely lives up to expectations. It's musically awesome and lyrically poignant. This is a song of lost love where the singer knows that the relationship is over but still feels strong enough for his lover that he can't bring himself to utter the hardest word to say… goodbye.
The next song, "Anything For You" is interesting because it was co-written by Robin Zander who also put in a guest vocal on the song. It's a slower number with a Beatle-esque quality. It's got a strong George Harrison sound and vibe to it.
Other standout tracks include "Love Life", "Say You Will" and "Hey Now." "Love Life" is the 5th track and it kicks the tempo back up after the two slower songs. It too is an upbeat, optimistic tune about loving life and enjoying the California lifestyle. Thematically, this could easily fit on Night Ranger's most recent release, Somewhere in California, as could the next track "West Hollywood", which is a psychedelic track that channels Tom Petty (to a somewhat eerie level), placing the listener at the intersection of Haight-Ashbury, right down to the lyrical nod to Hendrix with the line "Are you experienced in love?" This was actually co-written with Jack's son Colin. "Say You Will" is another up-tempo rocker, this time featuring a nice lead solo from fellow Night Ranger band-mate Brad Gillis. Kelly Keagy plays the drums on this one as well as the bluesy gospel rocker "Hey Now" that closes the album. It features another exceptional blistering lead and has a real Black Crowes feel to it. A nice, interesting way to wrap up the album.
Other tracks include "Born for This", lyrically celebrating people's passions, "Don't Give Up", another motivational track with a killer chorus, and "Rise and Shine", a song that starts off slow with a moody Doors-like atmosphere due to the keyboards and then launches into a full-on guitar attack.
Overall, this is a very good album and an excellent follow-up to last year's impressive Night Ranger release. It brings the listener along on Jack's lifetime journey of rocking for a living. It's got big guitars and big melodies and highlights the vocal prowess of Jack's voice as well as his impressive songwriting ability. When melodic hard rock is done well, it allows the listener to escape into a vision of sunny skies, palm trees and cruising down the avenue in your convertible '65 Mustang with your best girl by your side. So grab your Turtle Wax and put a shine on your favorite cruising vessel because this release is definitely done right. Strap yourself in and get ready for a rock and roll ride!
Band:
Jack Blades: Bass, guitar, acoustic guitar, lead and backing vocals
Joel Hoekstra: Guitars and solos
Will Evankovich: Acoustic Guitars, mandolin, additional guitars, coral sitar guitar, backing vocals
Kelly Keagy, Brian Tichy: Drums
Eric Levy, Christian Matthew Cullen: Keyboards
Track Listing:
1. Back In The Game
2. Rock N Roll Ride
3. Hardest Word To Say
4. Anything For You
5. Love Life
6. West Hollywood
7. Born For This
8. Don't Give Up
9. Say You Will
10. Rise And Shine
11. Hey Now
Label: Frontiers Records
Website: http://www.jackblades.net/
Hardrock Haven Rating: 9/10