Joe Satriani | Satchurated Live in Montreal
by Alissa Ordabai
Staff Writer —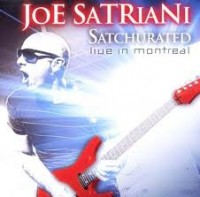 Spectacular improvisation as spirited and as eloquent as Satriani's studio material – if nothing else – makes this live release worth checking out. And not only by the guitar heads for whom this double CD is mandatory. This is also an album for those who not simply love a great melody, but are also curious to hear how a composer works in real time. How on the spur of the moment simple things can be turned into complex ones, how ideas can be shrunk and expanded, and how melody, harmony, and rhythm can simultaneously be shaped by formidable chops and intuition.
But there is, naturally, a wealth of other goodies on Satriani's first official live release since 1993, apart from demonstrations of technical virtuosity and a perfect sense of musical form. Sonically the record is a firework where the ultimate guitar guru structures the sound of his instrument with layer upon layer of tonal texture, using the guitar as his orchestra of choice. There is also the buzz of his interaction with other players, especially Mike Keneally on the keyboard during their witchery call-and-response moments. And, of course, nothing on the high tech guitar scene these days beats the supercharged energy and sincerity of a Satriani show and its uplifting, celebratory vibe.
Recorded at the Metropolis Theatre in Montreal, Canada on 12 December 2010 during Satriani's Wormhole Tour, the record spans material from the very early days of his career to songs from his latest studio release "Black Swans and Wormhole Wizards". The set list opens up his vast emotional range and shows how virtuosically Satriani can balance not only the different energies within one piece of music, but also within the set, going from swagger of such barnburners as "Pyrrhic Victoria" and "Big Bad Moon" with quasi-mystical extrapolations on "Light Years Away" and "Andalusia".
What makes, however, this record so different from other modern-day instrumental guitar releases – and what places Satriani in a different league from other high-tech masters – is that for him the guitar is not a fetish and not a weapon, but a tool for constructing his own very singular but accessible universe.
Above everything else this release is pure, unadulterated entertainment, even when Satch is delving head-on into an extensive impro, or when he is searching for deeper meaning outside of the straightforward rock formula. And the crowd during this show is giving back as good as it gets – more resembling a South American audience than a Canadian one with its chants and the touching moments when the entire venue is singing back to Satch his impromptu sparks of intuitive magic.
Genre: Instrumental Rock
Personnel:
Joe Satriani – lead guitar, vocals
Jeff Campitelli – drums
Allen Whitman – bass
Mike Keneally – keyboards, percussion
Galen Henson – rhythm guitar
Track Listing:
Disc 1
1. Ice 9
2. Hordes of Locusts
3. Flying in a Blue Dream
4. Light Years Away
5. Memories
6. War
7. Premonition
8. Satch Boogie
9. Revelation
10. Pyrrhic Victoria
11. Crystal Planet
12. The Mystical Potato Head Groove Thing
13. Dream Song
Disc 2
1. God Is Crying
2. Andalusia
3. Solitude
4. Littleworth Lane
5. Why
6. Wind in the Trees
7. Always with Me, Always with You
8. Big Bad Moon
9. Crowd Chant
10. Summer Song
11. Two Sides to Every Story (bonus track)
12. The Golden Room (bonus track)
All songs written by Joe Satriani.
Label: Epic
Web: www.satriani.com
Hardrock Haven rating: 10/10