John Allen of the Charm City Devils
by Deb Rao
Staff Writer —
One word that would describe the Charm City Devils in concert is "explosive." The Baltimore based band is currently on the road in support of their latest release Sins on Fat Lady Music. I first had the opportunity to see the band perform on Cruefest a few years back and have been hooked ever since. The Charm City Devils have a hard-hitting blues sound but take it to the next level on their latest release Sins combining blues, rock, and metal. Singer John Allen is a dynamic front man always giving a 100 percent in concert. The first single, "Man Of Constant Sorrow" is currently burning up The Charts at Number 26 on Active Rock Radio. Be sure to catch Charm City Devils live this summer! In this Exclusive interview for Hardrock Haven, Singer John Allen gives the readers and in-depth look at the making of Sins plus an exclusive track by track.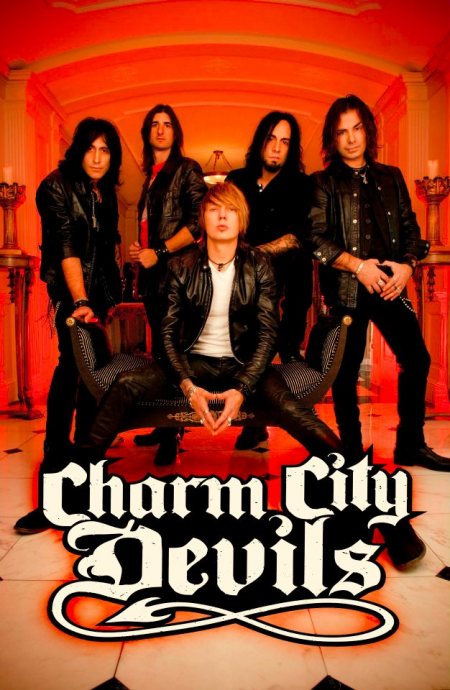 HRH: John, How are you doing? The Charm City Devils are currently on the road touring in support of your latest release Sins. How is the tour going so far? How are the fans responding to the new material?
John: On tour it is has been phenomenal. I mean there are high-energy shows. People are going crazy losing their minds. The weirdest thing that has been going on. There has been a lot of sexual energy in the audiences out here in the last couple of weeks. That is something I haven't experiences. Maybe there is an occasional female fan raising her top once in a while. I have seen my share of boobies over the years. But we have been having like full on sex acts taking place during the set throughout the West out here. We were in Iowa last Tuesday and I thought that wouldn't be topped. Then in Spokane last night it was girl on girl with a guy thrown in. Another couple of girls on the other side. It was like a wildfire that started spreading throughout the audience. It was a very interesting evening last night.
HRH: I have to tell you. I love the new album. I love the first album but this album seems to have a lot more hooks. You are singing better than ever. Tell us about the writing process and how it differs from Let's Rock And Roll.
JOHN: Let's Rock And Roll was mostly just me on that record. Writing the songs and demoing the stuff early on. This time it was more of a band effort. Also, we enlisted the help of Skidd Mills who is a Grammy winning producer. I think that helped us achieve and work towards expanding our horizons. Whether we achieve that is up to the fans. As a listener we tried to broaden what we do in all facets. I am singing lower on this record. But I am also singing higher than before. Sonically, the sound of the record we tried to approve upon everything that we have done on the first record.
HRH: I love the rendition of "Man Of Constant Sorrow." It is the first single off of the new CD Sins. The radio stations are really picking up on it seems.
JOHN: Thank you. It is amazing to me how it has caught on. It is very cool. It really seems to be resonating with the radio stations. The radio stations are telling us. We played it once and the phones just went crazy. People are calling in and asking who is doing that song? It is has been a trip.
HRH: Your first album really reflected the blues sound. But on Sins every song has a different vibe, which is really refreshing. How did you come up with the title Sins?
JOHN: Sickness inside never stops in my craziness. Depending on how you define Sins with your own personal belief or whatnot. To me it is meaning mistakes that you thought you have done wrong in your life. I think everybody has done that. If you haven't sinned in some form of fashion sign you up for sainthood. We have all made mistakes. We have all been human at one time in our lives. I just felt that it was a universal theme that all people can relate to.
HRH: Is there anything else that you would like to say about Sins and your current tour?
JOHN: We are Number 26 on Active radio. It has resonated with people all across The States and I hope that continues to grow. We are playing Rocklahoma and Summerfest. I heard about Summerfest years and years now in Milwaukee. We are really looking forward to that one and Rocklahoma as well. We are playing Rocklahoma on that Sunday with Chickenfoot, Black Stone Cherry, and Hell Yeah.
Sins Exclusive Track By Track by John Allen:
"Spite" – We open the set with that one. That song is really about a F*U to people who didn't believe in you and your abilities. That never gave you the time of day and thought you were never going to amount to anything. I think everyone can relate to that. Especially musicians. It is about the business. It is about anyone that ever said we would never do anything. That is what that song is about.
"Man Of Constant Sorrow" – I remember seeing Ralph Stanley perform that song on the Grammy's. It blew me away. I always kept that in the back of my mind that might be a really cool song to cover one day. When we were talking about doing a cover for this record we said why don't we try that? We worked it up. It seemed to kind of resonate with us. We thought if it connects with us it would connect with a larger audience.
"Still Alive" – I had skin cancer. I found out a couple of months after our first tour on Cruefest. That song kind of talks about all the things I would miss if I did succumb to the cancer and how it would impact my family.
"Walk Away" -Is about a relationship that has gone bad. Everybody can relate to that. Unless you have been incredibly blessed or lucky and have not gone through any kind of heartbreak.
"Devil Is A Woman" – That song is like the last record I guess. It has a nice groove. I can see strippers sliding up and down a pole to that song all across the United States." (Laughter)
"Start It Up" – It is a really angry song. I wrote the lyric after there was a shooting about another kid who went off and shoot some. I wrote that about the Gabby Gifford instance. I kind of put myself into that guys head to get his kind of view. He was a crazy person that just wanted to be noticed and get the attention of the world. It was about how much I think he is messed up. It was a terrible tragedy.
"Love N War" – Me getting political. It is the mentality of people in government who are very quick to take us into battle. Meanwhile, here at home people are struggling to find work.
"Blame" – "Is another relationship song. It is about the parting of the ways of friends or a guy and girl relationship song.
Charm City Devils on the web: www.facebook.com/charmcitydevils