John Schlitt | The Greater Cause
by Mark Allen
Staff Writer —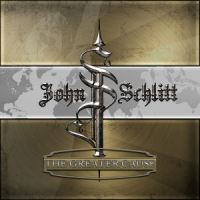 So great is the voice of Christian rock legend John Schlitt that he could sing a manual on how to recycle used toilet paper and make it sound good. When GospelMusicChannel.com named him the best rock singer in gospel music history, they exhibited the sagacity of Solomon. He cut his musical teeth with the mainstream band Head East but succumbed to the devils of drug and alcohol addiction before devoting himself to Christ. Born again in spirit but still burning with the need to rock and roll, Schlitt soon found himself fronting the band Petra who, with Schlitt as their singer, became the biggest name in Christian rock during the late '80s/early '90s.
Between Petra projects, Schlitt released two solo albums: Shake in '95, which resembled the melodic, arena-rock style of Petra and was well-received, and Unfit for Swine in '96, a darker, edgier effort that many fans thought was aptly titled. Following Petra's disbandment in 2005, Schlitt released another solo effort, 2008's The Grafting, which was fairly mellow, leading fans to wonder if the man whose voice had once commanded the Christian rock scene still knew how to rock it up.
Well, consider that question answered with an emphatic, "Heck, yeah!" The Greater Cause is most definitely a rock album, as if Schlitt wanted to satisfy his fans, silence his critics, and have a spirited—or would that be Holy Spirited?—good time doing so. The album sports that classic John Schlitt feel, the kind of not-too-hard-not-too-soft-rock the man has been serving up for three decades and while the sound is too retro to win him any new fans, the ones already in his camp should be plenty pleased.
Time's inexorable crawl has been kind to Schlitt; despite qualifying for senior citizen discount at Denny's, his voice shows little sign of wear. Maybe he doesn't wail as high as he once did, but the soulful grit and attitude is still there. The production caters to this strength, the engineering warm and organic and rightfully focused on Schlitt's vocals. Same goes for the musicians hired to bring this album to life; all are competent and skilled, but they understand they are playing second fiddle to the star of the show. This album belongs to John Schlitt and whether it's an unqualified success or a crash and burn debacle rests solely on his shoulders.
Luckily, The Greater Cause succeeds more than it stumbles. As has always been the case with Schlitt, his voice is best suited to rockers and he slams out a number of them. "Live It Loud" kicks things off raucously, with just a hint of modernism in the chorus counter-vocals, which come at you like staccato bullets. "One of These Days" is delicious ear candy, a mid-tempo tune that evolves into a full-throttle rocker loaded with urgent energy and sharp hooks. And then there is "Hope That Saves the World," which is exactly the kind of song you hope to hear when picking up a John Schlitt album, featuring a catchy start-stop rhythm, melodic guitar leads, and a soaring chorus. Less impressive are the ballads, but those have never been Schlitt's strength. That said, most of them are tolerable—"Where I Wanna Be" even manages to be good—but "The Gift" is anything but, coated with so much cloying, cringe-inducing sweetness that you risk going into diabetic shock if you listen to it more than once. It's a nice love letter to his wife, but she's the only one who should have heard it.
This is a good, solid "comeback" from Schlitt. No, it doesn't top his glory days with Petra, but did anyone actually expect it to? That would be like visiting the zoo and expecting to see a Wooly Mammoth—ain't gonna happen. But this is definitely the best of Schlitt's solo albums, meaning Christian rock fans have great cause to be excited.
Genre: Christian Rock
Musicians:
John Schlitt (vocals)
Jerry McPherson (guitars)
Andrew Ramsey (guitars)
Chris Rodriguez (guitars)
Gary Burnette (guitars)
Tony Lucido (bass)
Matt Campbell (bass)
Matt Pierson (bass)
Joeie Canaday (bass)
Tim Acres (Hammond B3 organ)
Peter King (keys)
Dan Needham (drums, percussion, keys)
Matt Butler (cello)
John Catchings (cello)
Track Listing:
1. Live It Loud
2. Take Me Home
3. Love Won't Leave Me Alone
4. One of These Days
5. Faith & Freedom
6. End of Fear
7. Where I Wanna Be
8. Hope That Saves the World
9. Run
10. The Gift
11. The Cross Remains
Webpage: www.johnschlitt.net
Label: 4K Records
Hardrock Haven rating: 7.5/10