LIVE! | Dokken at the Rainbow
by Deb Rao
Staff Writer —
April 15, 2012 at the Rainbow Bar and Grill in Hollywood, CA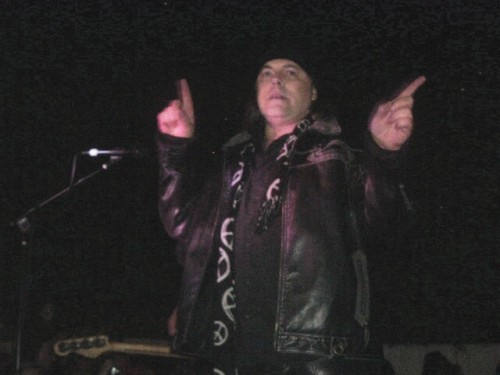 The legendary Rainbow Bar and Grill in West Hollywood celebrated its 40th Anniversary on April 15. The Rainbow first opened its doors in 1972. Over the years, the eclectic venue was a haven for many a celebrity to congregate. Many of Hollywood's top celebrities and rock stars have passed through the popular club during the heyday of metal including Motley Crue, Poison, Dokken, and Ratt. On this special Anniversary tonight's A-list was no exception. Doors were slated to open at 5 p.m. with many bands set to take the stage including Hurricane and Pretty Boy Floyd.
Driving from Las Vegas to West Hollywood was no easy feat during Vegas's Spring break. Traffic was backed up for miles along the desert highway. I finally arrived at the club in time for DOKKEN to take the stage at 11 p.m.
DOKKEN first got their start playing on Sunset Strip back in the heyday of metal. Tonight's audience was a mixture of old and young. It was exciting to see some of the new fans seeing the band for the first time and some old familiar faces backstage. The event took place in the back of the Rainbow and Roxy parking lot. A built up stage and a couple of spotlights were the only stage props. The emphasis was clearly on the music tonight and not the gimmick. DOKKEN took full control of the audience opening with "Just Got Lucky." The line-up featured Don Dokken on vocals, Sean Mcnabb on bass, Jon Levin, on guitar, and filling in for Mick Brown was drummer Brian Tichy. Although the line-up has changed since the heyday without George Lynch and Jeff Pilson the band still kicks ass.
Don Dokken reminisced onstage about being a 23-year-old kid opening for Van Halen and Quiet Riot at the Whiskey A – Go-Go and said it seemed like only yesterday. Dokken only got to play a 30-minute set and decided to stick to the heavy format belting out such hits as "Into The Fire", "Kiss Of Death", and "Tooth And Nail" and ending the set with the sing along to "In My Dreams."
After the concert, I spoke to Don regarding the special event. He told me that he was happy to be part of the special Rainbow event and it was a lot of fun. Tonight's concert was all about nostalgia. For a moment, we all had the opportunity to recapture the magic of the '80s. Although I must say, after living in Vegas for a while now and being used to having venues open till 4 a.m., they do roll up the Red Carpet pretty early at 2 a.m. in LA. After the concert, many rockers invaded the famous Rainbow including Chas West, Carlos Cavaza, Alex Grossi, and Scottie Griffin.
At the Dokken table, I had the opportunity to discuss the upcoming Dokken album Broken Bones with Don. When I asked about the evolution of Dokken and if the new CD will resemble the classic Dokken album Tooth And Nail this is what he had to say, "I don't know, it's not done yet. I write what comes from the heart, I don't believe in writing music trying to repeat what you've already done. I understand what the fans want but as an artist I see no point in painting the same picture over and over. Our label hates me to say that and I'm sure the fans too. So we're walking a tightrope trying to keep everybody happy without selling out. I would hope that our fans have grown with us. When I sing it sounds like Dokken but as time passes I see the world differently so obviously it affects my lyrics. I have been asked to write songs like we did in the '80s but if the Beatles just kept writing 'I Wanna Hold Your Hand' would they have lasted? That is the million-dollar question. So we are trying to strike a balance."
"What can I say Broken Bones is very up-tempo. I haven't written the ballad yet. It will be the last song I write for this CD. It will probably be a power ballad. I've had some crazy stuff and people pass through my life lately. So I've got plenty of thoughts to put to pen!"
Be sure to check out Dokken at M3 on May 12. Hardrock Haven will be on hand to cover the festival.