by Adam Labonoski
Staff Writer –
May 15, 2012 at Onondaga County War Memorial, Syracuse, NY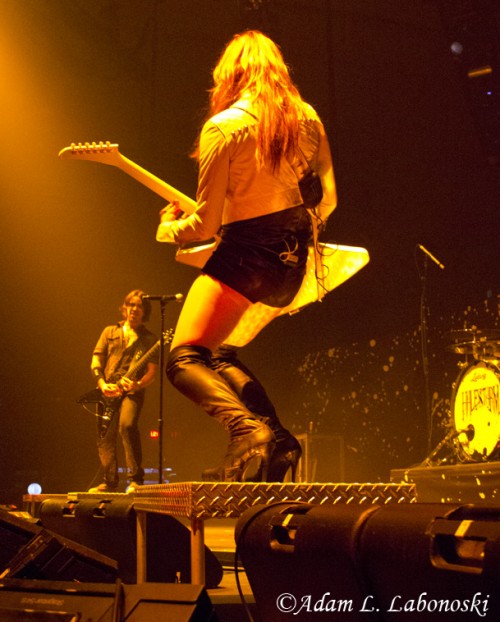 Atlantic Records artists Halestorm have been rocking their way up the charts and are currently touring on Godsmack's Mass Chaos tour. They swung through Syracuse to play at the Onondaga County War Memorial on May 15th.
Lzzy and the crew never disappoint, they are rife with energy and put on a great show! They started this show with their most recent hit song, Love Bites (So Do I). Lzzy has amazing and strong vocals. Her voice isn't the only heart stopping feature of the show. Once the men in the crowd closed their jaws, they began to rock out to the rest of the set. With Arejay on drums, Josh on bass and Joe on guitar, the tunes are nothing but heavy rock-n-roll. Halestorm is the exemplification of hard work, hard rock and strong determination. They are sure to have many hits over the next few years.
Halestorm is currently touring with Brookroyal, Staind and Godsmack. Look for a concert review coming soon from Hardrock Haven photographer Sara McCarthy!
Rock on!
http://www.halestormrocks.com/
Setlist:
Love Bites (So Do I)
Ms. Hyde
I Miss the Misery
American Boys
Familiar Taste of Poison
Freak Like Me
Rock Show
It's Not You
I Get Off
Halestorm 2012 Photo Gallery
Photos appear courtesy of Adam Labonoski