Malice | New Breed of Godz
by Justin Gaines
Staff Writer —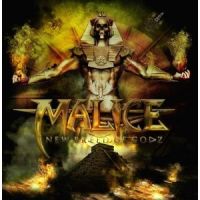 It took a quarter of a century, but the metal world can finally witness the return of one of the American cult heavy metal scene's most beloved bands. Malice is back…sort of. The "sort of" qualifier is there for a couple of reasons, both of which take much of the joy out of the band's long-awaited return. The first reason is that of the lineup that gave us the classic albums License to Kill and In the Beginning, only guitarists Jay Reynolds and Mick Zane remain. The rest of the lineup is new, including Helstar vocalist James Rivera, who seems to be taking over Ripper Owens's role as the "go-to" replacement metal singer. The second reason is that of the twelve songs on New Breed of Godz (and they lost a point just for that title), only four are actual new songs. The rest are just re-recordings of older Malice songs with the new lineup. We're not off to a very good start here, are we?
The problem Malice faces here is that while James Rivera is a fantastic singer and has one of metal's most recognizable voices, he also tends to dominate an album. In that respect, New Breed of Godz ends up sounding like just another Helstar, Seven Witches or Vicious Rumors album. There's nothing here that really screams "Malice," and that even includes the older songs. Speaking of which, if the best you can do with this lineup is four new songs, it's probably not worth releasing as a full-length album. The re-recordings are interesting at best, and a mistreatment at worst. The old adage "if it ain't broke, don't fix it" comes to mind. As for the new songs – "New Breed of Godz," "Branded," "Winds of Death (Angel of Light)" and "Slipping Through the Cracks" – they're all decent songs, but again, they seem more like Helstar songs than Malice songs.
None of this is to say that the music on New Breed of Godz is bad. It's not. The musicianship is good and James Rivera sounds great as always. If you can ignore the history here and focus on the songs there is a lot to like. It's just really hard to do that if you're a long-time Malice fan, especially with so few new songs to focus on.
If you're a huge James Rivera fan or a very forgiving Malice fan, go ahead and give New Breed of Godz a listen. Just don't expect a new "true" Malice album, because this definitely isn't it.
Genre: Heavy Metal
Band:
Mark Behn (b)
Pete Holmes (d)
Jay Reynolds (g)
Mick Zane (g)
James Rivera (v)
Robert Cardenas (b)
Track Listing:
1. New Breed of Godz
2. Hell Rider
3. Against the Empire
4. Branded
5. Sinister Double
6. Circle of Fire
7. Stellar Masters
8. Winds of Death (Angel of Light)
9. Air Attack
10. Chain Gang Woman
11. Slipping Through the Cracks
12. Godz of Thunder
Label: SPV
Website: www.malicemusic.com
Hardrock Haven rating: 6/10