by Trevor Portz
Staff Writer —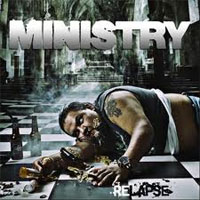 An astounding 31 years in, the Godfathers of industrial metal are back with another shard of noisy anger. Faster and more brutal than just about anything they've done before, Relapse reflects both the external events shaping our world and the internal struggles (including a near-limb-losing experience) shaping frontman Al Jourgensen.
Opening track "Ghouldiggers," sets the tone for the album to follow. It starts of slowly with a rant about the current state of music, initially drifting over some subtle noises, but eventually blasting in to full-out industrial fury. The song brings to mind the work of Rob Zombie, but far faster, and with a hyperspeed, shred-worthy solo.
Revved-up song tempos dominate the album, and do a fine job of keeping everything energetic and effective without drifting into too many spaced-out soundscapes. Minus their first album, Ministry have never shied away from their metal roots, but this is certainly the band at its most headbanging.
Standout tracks include a cover of S.O.D.'s "United Forces," which is fitting, as S.O.D. covered several Ministry classics on their Live at Budokan release. "Weekend Warrior" is a tad silly, but one can't help but laugh when Jourgensen tells Wendnesday to "f**k itself." "Bloodlust" also stands out, being oddly reminiscent of Strapping Young Lad, melodic screams and all. There's no doubt Devin Townsend was influenced by Ministry when creating his metal masterpieces, and it's cool to see the tribute paid-back (whether intentional or not).
While it seems unlikely Ministry will ever attain the level of success they once tasted with Psalm 69, they continue to put out relevant industrial metal that pushes both musical and lyrical limits. It's also refreshing to see that Jourgensen's anti-Bush furor, while not unfounded, seems to be hibernating for the moment. Maybe he's just saving up his energy for this year's elections, which could foreshadow a Ministry that is angrier and faster still (time for a blastbeat? Perhaps). Either way, this is one relapse to be celebrated.
Genre: Industrial Metal
Band: All Jourgensen (v,g,k)
Mike Scaccia (g)
Tommy Victor (g)
Tony Campos (b)
Casey Orr (b,k)
Track Listing:
1. Ghouldiggers
2. Double Tap
3. FreeFall
4. Kleptocracy
5. United Forces
6. 99 Percenters
7. Relapse
8. Weekend Warrior
9. Git Up Get Out 'n Vote
10. Bloodlust
11. Relapse (Defibrillator Mix)
Label: 13th Planet Records
Website: www.ministrymusic.org
Hardrock Haven rating: 8.4/10