by Trevor Portz
Staff Writer —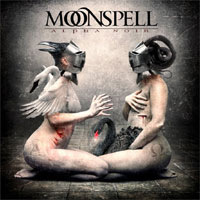 Everyone probably best remembers Moonspell from their "hit," "Opium," from the Irreligious album. It embodied the shift from their early black metal sound to one more rooted in Goth metal, and helped to substantially broaden their fan base. Many years have passed since "Opium," and while the band has stayed active and quite successful in the metal scene, their newest album, Alpha Noir, is ultimately very forgettable.
The members of the band described Alpha Noir as "an incendiary album," which is not only a pretty ridiculously abstract thing to say, but is also far from true. That is, of course, unless fires are often caused by overly pompous blandness.
Ignoring the general lack of interesting riffs, perhaps the most painful part of the album is the lyrics. "Lickanthrope," assumingly designed to be some sort of darkly sexy werewolf song, loses all listen-ability with the repeated growl of "Little Red Riding Hood." Seriously? Even Stephanie Myers managed to avoid such a classic cliché.
Other standout weirdness includes "Love Is Blasphemy," which could easily be the name of a HIM song, though it doesn't carry the Gothy romance Ville Valo tends to deliver. "Opera Carne," which essentially translates to "Meat Opera," perhaps relates to the "incendiary" description of the album, and suggests a hidden theme of barbequing.
Silliness aside, Alpha Noir really just comes across as a generic album by a once better band. Compared to a lot of the cookie-cutter metal dominating airwaves, it's not terrible. But with so many great bands putting out far superior albums, it does little more than leave the listener unaffected, perhaps revealing the nothingness the title implies.
Genre: Goth Metal, Black Metal
Band:
Fernando Ribeiro – vocals
Ricardo Amorim – guitars
Pedro Paixão – keyboards, guitars
Aires Pereira – bass
Miguel Gaspar – drums
Track Listing:
1. Axis Mundi
2. Lickanthrope
3. Versus
4. Alpha Noir
5. Em nome do medo
6. Opera Carne
7. Love Is Blasphemy
8. Grandstand
9. Sine Missione
Label: Napalm Records
Website: www.moonspell.com
Hardrock Haven rating: 4.3/10