by Alissa Ordabai
Staff Writer —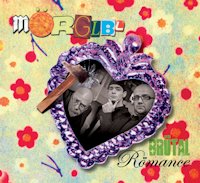 French veteran trio Mröglbl led by guitar guru Christophe Godin deliver a familiar brew on their new release: an off-the-wall, heady mixture of jazz fusion, metal, hard rock, prog, and whatever else they feel like including into their whimsically singular universe. In line with the style of their previous albums, the new record oscillates between knotty jazz-rock extrapolations, heavy metal riffs, ostinato languor, and soaring melodies all mixed in a wacky cauldron of genres, styles, formats, and moods.
It has often been said that Godin with his phenomenal chops and an exceptional gift for riffs and melodies could have become an A-list rock star decades ago, if only he could stick to one genre. But thankfully Godin is someone who finds staying within one paradigm too limiting for his latitude, on top of being a great merrymaker who can't resist having fun even with the most pathos-laden maxims of metal or the most sublime elevations of jazz.
Godin's free-flight improvisations such as on standout "Fidel Gastro", however, show that there have always been deeper realities to his music than virtuoso chops or accomplished genre-bending. Channeling his intuitive magic into the band's mosaic of styles during ad lib impro is where Godin goes beyond the facades and the joie de vivre of his act, opening another dimension with a scrupulous truth of feeling and mastery which goes beyond technique and beyond the theatrics.
Genre: Jazz Fusion, Rock
Line-up:
Christophe Godin – guitar
Ivan Rougny – bass
Aurel – drums
Track Listing:
1. Gnocchis on the Block
2. Brütal Römance
3. Le Surfer D'Argentine
4. Golden Ribs
5. Fidel Gastro
6. Oh P1 Can Not Be
7. Cantal Goyave
8. Glucids in the Sky
9. Wig of Change
10. Metal Khartoon
Label: Free Electric Sound
Web: http://www.morglbl.com/en/, http://www.christophegodin.com/
Hardrock Haven rating: 7/10