Rana Freilich of Legacy Of Disorder
by Deb Rao
Staff Writer —
Fast rising metallists Legacy Of Disorder is currently taking the U.S. by storm. The band has just wrapped up a very successful tour with Gwar and is currently on the road with Fear Factory. Legacy Of Disorder is comprised of members that hail from New Zealand with the exception of Dallas, Texas drummer Matt Thompson. Other LOD members include Rana Freilich on guitar, singer James Robinson, and bassist Jason Keill.
Legacy Of Disorder has just released their sophomore CD entitled, Last Man Standing produced by Sterling Winfield and is available at all of their shows. Heavily influenced by Pantera, LOD unleash a powerful fury on their current release. Guitarist Rana Freilich has a style reminiscent of the late Dimebag Darrell Abbott.
Hardrock Haven recently caught up with LOD guitarist Rana Freilich. In this exclusive interview, Rana discusses LOD latest release and life on the road. As Legacy Of Disorder continue their whiplash trek across the U.S. with Fear Factory.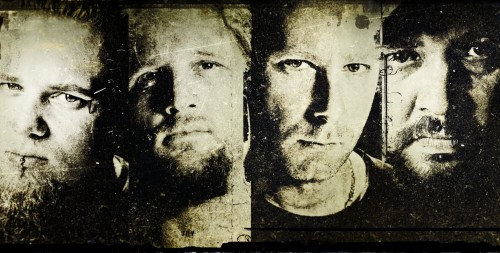 HRH: Rana, Welcome to the U.S. The band is currently on tour with Gwar. How is the tour going so far? I believe you are in my old stomping grounds of NH tonight.
Rana: It has been pretty grueling. We are doing 30 dates in 40 days but is has been awesome.
HRH: Has your new album Last Man Standing been released?
Rana: Yes. At the moment you can only buy it at the shows.
HRH: Tell us how Last Man Standing differs from your first release.
Rana: It is a bit of a progression. We are getting used to being in the studio now. It came together really well.
HRH: How long has the band been together as a unit?
Rana: The band has been together since 2008. It has been about 4 years now.
HRH: How would you describe the sound of Legacy Of Disorder?
Rana: Tight, heavy, original with elements of lots of music that we like.
HRH: As a guitarist who are some of your influences?
Rana: OK let's see. Tony Iommi, K.K. Downing, Dimebag Darrell, Zakk Wylde, Jake E. Lee. There are plenty.
HRH: You are going on tour with Fear Factory on May 1st. Correct?
Rana: Yes, the Gwar tour finishes on April 28th. We start again with Fear Factory on May 1 in San Antonio. The Gwar tour has been a really fun tour.
HRH: Tell us a little bit about your live set and what the fans can expect to see on tour this summer.
Rana: We play half hour. In the half hour, we get to play eight songs. We just pound it out. Usually our music what you hear on CD is what we sound like live.
HRH: That is refreshing to hear. What is your favorite song on Last Man Standing?
Rana: That is kind of like choosing what child you like the most. (Laughter) I like them all. It really hard to pick.
HRH: Where does Legacy Of Disorder hail from?
Rana. Three of us are from New Zealand. Matt Thompson our drummer is from Dallas.
HRH: A young band on the rise, what is your goal in the music industry?
Rana: To get an album distribution in The States and just keep on touring. Just don't take no for an answer and keep on doing what we are doing.
HRH: That is awesome. We wish you the best of luck. The year has been amazing for Legacy Of Disorder so far!
Visit the band on the web @ www.facebook.com/legacyofdisorder