Sacred Heart | The Vision
by Justin Gaines
Staff Writer —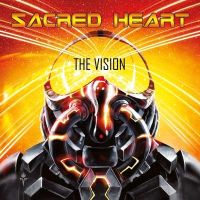 The Pure Steel Records' Pure Underground division reached deep into the metal vault to find this lost gem. Sacred Heart was a Cleveland-area heavy metal band active for a brief period of time as the 1980s gave way to the '90s. The band, which featured hotshot guitarist Byron Nemeth, released just one demo, the three-song The Vision, in 1989. After all these years, Pure Underground has brought these long lost Sacred Heart recordings – plus a few additional surprises – back to light with their deluxe reissue of The Vision.
This edition of The Vision contains not only a newly remastered version of the original three songs from the original demo, but the song "Time After Time," which originally appeared on Auburn Records' Heavy Artillery sampler in 1991, as well as the previously unreleased song "Take Hold." That's five vintage Sacred Heart recordings total. The rest of The Vision consists of a six-song 2010 EP by the Byron Nemeth Group.
The Sacred Heart songs are about what you'd expect from an American heavy metal band with that particular name. They're traditional, Dio and Maiden-inspired American power metal songs with an epic, dramatic flair, some nice melodies and high-pitched (if a bit thin) vocals. Stylistically, it's similar to bands like Fifth Angel and early Drive. The later Byron Nemeth Group material is quite a bit different. It's more keyboard-oriented progressive metal with lots of technicality and a vocalist who is much more powerful, if not quite so distinctive. It's kind of a weird juxtaposition, actually. The later songs are probably better overall in terms of songwriting and production, but they really don't seem to go with the original Sacred Heart material at all. The Vision might have been more effective without them as a simple EP release.
Obviously a reissue like The Vision is aimed at serious collectors of forgotten '80s era heavy metal, and if you fall into that category, chances are you'll find this Sacred Heart collection worthwhile. The band doesn't really make the jump from "solid" to "something really special" territory, but it's always good to see these old relics dusted off so that collectors who missed them the first time around can finally hear these lost metal releases.
Genre: Heavy Metal, Traditional Metal
Band:
Byron Nemeth (g)
Ed Edwards (b)
Brian McIntyre (d)
Keith Van Tassel (v, tracks 1-5)
Ray Richter (v, tracks, 6-10)
Mark Herholtz (g)
Track Listing:
1. We'll Hold On Till Tomorrow
2. New Order
3. The Vision
4. Time After Time
5. Take Hold
6. Demon's Wing
7. Selfish
8. The Game
9. Dreamcatcher
10. What's Done Is Done
11. Slip of the Tongue
Label: Pure Steel, Pure Underground
Website: http://www.facebook.com/SacredHeart2012
Hardrock Haven rating: 7/10