Ten Years After | Hear Them Calling
by Alissa Ordabai
Staff Writer —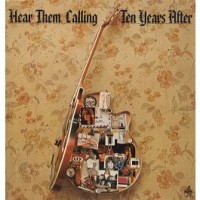 Few British guitarists have given themselves to the blues with the same tenacity and perseverance as Alvin Lee. What to many of his generation was still a received method, to Lee was an organically absorbed culture he completely assimilated in. And what others have later began moving away from – be it toward hard rock, pop, or jazz fusion – to him has always remained a constant source of self-fulfillment.
The accent of this release is on the more introverted cuts from the early Ten Years After catalog, but Lee's raw-edged passion for the blues is still conveyed through the key tracks with vividness that would make any newcomer to the band sit up and listen.
From the disquietingly ominous riff on opener "Hear Me Calling" to the infectious urgency of closer "I'm Going Home", the album is an engrossing, and at privileged moments – hypnotizing – affair. Lee made tradition his own, deeply personal reality from the very start, so even among the earliest material from the band's 1967 debut there nothing generic about his reading of the blues. His biting, self-assured guitar attack, his full-bodied, yet edgy tone, and his unique phrasing make his sound signature instantly distinguishable, along with his expressive, non-liner improvision which in the early Seventies earned him the reputation of one of the most formidable blues improvisers on both sides of the Atlantic.
But above all it's the emotional truth of his delivery that grips you the most – both on punchy powerhouse bangers and the poetic, haunting slow-burners. Lee's latitude makes sure he always keeps his audience on its toes, and not only through variety of emotion, but also stylistically. And the album highlights the band's range well – from the early borderline psychedelic exercises to their raucous blues-rock side, to showcases of Lee's improvisational brilliance as on standouts as "I May be Wrong, but I Won't Always be Wrong". Recorded "as live", this highlight superbly reveals not only Lee's tasteful jazz sensibility, but also his formidable gift for improvising expansively yet with astutely sharp focus.
The lack of liner notes and personnel credits is regrettable, as well as absence of the initial release dates. But even as it is, this compilation gives a perspective not only on the band's own path, but also of the transformations within the genre and its relationship with the record industry. Not that Lee ever does much hat-tipping to trends and fashions. Whatever style he chooses to tap into, he is always authentic, always himself, and always immediately recognizable.
Genre: Blues, Blues Rock, Classic Rock
Track listing:
Disk 1
1. Hear Me Calling
2. Love Until I Die
3. Rock Your Mama
4. A Sad Song
5. Losing the Dogs
6. Going to Try
7. Boogie On
8. No Title
Disk 2
1. The Sounds
2. I Can't Keep from Crying Sometimes
3. Spider in My Web
4. I Want to Know
5. Speed Kills
6. I May be Wrong, but I Won't Always be Wrong
7. Three Blind Mice
8. Portable People
9. I'm Going Home
Label: Talking Elephant Records
Web: www.alvinlee.com; www.tenyearsafternow.com/
Hardrock Haven rating: 9/10