Bombay Black | Bullets and Booze
by Derric Miller
Managing Editor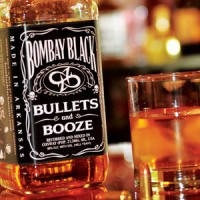 "She's cocaine pleasure but she's all pain." For most of society–at least the ones self-aware enough to understand the soul-sapping dynamics of "relationships"–that one simple lyric culminates in an eerie yet apropos examination of dating. If that sort of polysyllabic deconstruction of musical poetry isn't doing it for you, try this one on–Dating really sucks. Really. It sucks. Bad. It's twice the pain of pleasure, and twice the embarrassment of honor. And that's the reason why we need to bow at the altar of Bombay Black every single damn time they write a song; no band in the universe can flesh out our hatred of both being alone and yet navigating with the instinctual drive to find someone to "complete us." In fact, maybe the only complete thing in life is mixing bullets with booze … see, another reason why Bombay Black is too smart for their own damn good.
To start with, just being crafty means nothing. You need a vocalist who can sing with both snark and melody at the same time. Oh yeah, Erik Johnson is an unsung hero of vocalists, and he's even better LIVE in concert. You need to be backed by a rhythm section that can make you pump to the sexual beat. So steps in bassist Ty Sims and bludgeoning drummer Rob McCauley. These guys are mountainous in their volume, power and precision. You also need a guitarist who pisses off all the guitar heroes in the crowd, and guess what? New guitarist Justin Velte will make you jealous and proud all at the same time. This is Bombay Black … and they are better than you.
In the end, though, it's all about the songs. Bullets and Booze lifts off with "Queen of Denial." You get some insight into McCauley's sheer rabidity but also the deftness of Velte, as his licks bring a near Middle-Eastern or Egyptian vibe to them. What's the best part of any Bombay Black song, though? It's the huge, harmonious chorus, 100 percent of the time, wrapped around lyrics that you can't write. "It's hard times trying to walk a straight line and I know she's never gonna do it for me!" The sing-along factor is immeasurable. You have to hear it to truly hear it.
There seems to be a flowing narrative song to song, and that's "cheap sex is better than love." And thus steps in "All the Same in the Dark." The rhythmic grind, the sheer sexuality, the dripping testosterone is nearly indescrible, except it just was. (That's called naming the frame.) When Johnson sings in pure earnest sexuality, "Cuz I'm not so psycho that I need your name," you can't help believe that THEY believe everything they write. You wanna party with these guys, in other words …
Not to veer too far off the sub-concept of Bullets and Booze, you land on "No Room for Emotion." That best part about this song is that you get a mixup of composition; it's not quite a verse-verse-chorus song. They mix it up somewhat, but in the end, it's just another rut anthem. Really, if you thought Billy Squire wrote songs worthy of rutness, he lost his crown when Bombay Black wrote, "Get it in, get it on, get if off and get gone!" Perchance they forgot every kiss begins with K.
The title track is poetically the most harmless song on the release. There's a tinge of the forlorn, the bereft, the whole "I miss you and want you vibe." It's got a bit of Whitesnake sexual squirm to it, musically, like someone is going to have sex merely because this song is playing. The lyrics of "All the bullets and all of the booze don't begin to equal you," is about as exposed as Bombay Black will become. So embrace it. It's not romantic, of course, but it's at least … positive?
Look, Bombay Black is one of the best American Hard Rock bands of the past decade. It's not Modern Rock, it's not Classic Rock, it's not Hair Metal, but it's all of that simultaneously. You can't paint them into a corner (cuz they'd shoot their way out) but don't you dare dismiss them. This is what American Hard Rock sounds like today–you start with Bombay Black, and you work your way down. Period.
Track listing:
1. Queen of Denial
2. Rock N Roll Pain Train
3. Helluva Time
4. All the Same in the Dark
5. Bad Boy
6. Honey Lemon Kisses
7. No Room for Emotion
8. Let Me Be
9. Love Like This
10. Dragon Tattoo
11. Bullets and Booze
12. Take Another Picture
13. The One You Love
14. That's the Way It Is
15. One Single Drop
Online: http://www.bombayblackmusic.com/fr_home.cfm
Genre: Hard Rock/Metal
Label: Triage Music Firm
Hardrock Haven rating: 9/10