Carmen Gray | Gates of Loneliness
by Nikiforos Skoumas
Staff Writer —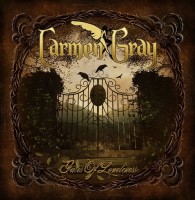 Finnish modern melodic rock group Carmen Gray are back with their third studio album Gates of Loneliness. Carmen Gray have been a household name of the Finnish scene for over seven years and yet they are just making their debut in the international rock arena with Gates of Loneliness and it is great being able to find their new album in a format other than an overpriced import.
Then new album is a considerable departure-musically, from the previous two albums; the thick guitar riffs and rhythm parts are replaced by a mixture of acoustic-clean guitar chords, complemented by electric guitar leads, plus a more reserved rhythm section. One could describe the overall style of Carmen Gray as a slightly more popular version of the 69 Eyes in the sense that it was up-beat modern melodic rock but with Gothic singing which becomes even more evident during the choruses. Essentially, that also proves to be the case with Gates of Loneliness.
Obviously the mixture of clean rhythm guitars and electric leads adds a more radio-friendly quality to their sound which could be regarded as Nelson-going-Gothic particularly on such tracks as "Love story Town," the ultra-infectious ballad slahs rocker "Demolition Lady" and the up-tempo "Waiting for the Sun".
From there onwards you get the contemporary pop-rockers such as "Two Wannabes," "Heroes and Losers," the sing-along "Real Punks" which features some very effective female vocals that elevate the song and keep the latter part of the album vibrant. Lets not forget the narrative "Not Surprized" which closes the album, coming out as subtle and intense at the same time.
One has to clarify that their 'more popular musical orientation' is by no means used as a synonym for over-simplification, as Gates of Lonliness is by any standards a very well thought, well planned and well delivered work. Form the acoustic guitars and the vocal harmonies, to the melodic guitar solos to the subtle piano complements Gates of Loneliness is clearly an album well worth its money.
Genre: Melodic Goth Rock
Line up:
Lappe: guitars, vocals
Nicklas: lead vocals
O.J.: drums
J.J.: keyboards, backing vocals
Pete: bass, backing vocals
Track list:
1. Gates Of Loneliness
2. Roses
3. It´s Only Love
4. Love Story Town
5. Waiting For The Sun
6. Demolition Lady
7. Two Wannabes
8. Heroes And Losers
9. Real Punks
10. Not Surprised
Label: Warner Music
Web: www.carmengray.net
Hardrock Haven rating: 8/10