Clairvoyants | The Shape of Things to Come
by Justin Gaines
Staff Writer —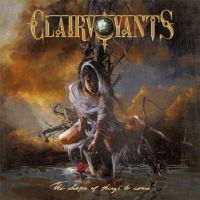 Italian power metal band Clairvoyants may have started out as an Iron Maiden cover band, but with their 2009 debut Word to the Wise they proved to the metal world just how powerful their own music was. Unfortunately, despite Word to the Wise being one of that year's best power metal releases, it didn't gain a lot of attention. Undaunted, the band is back with their second album, titled The Shape of Things to Come.
Just to clarify, in case you saw the words "Italian" and "power metal" and immediately thought "Rhapsody clones," Clairvoyants is not your typical Italian power metal band. There are no overblown symphonic arrangements, no lofty narration and no lyrics about magic swords or frolicking elves. Clairvoyants has a sound that's somewhere between Iron Maiden (obviously) and the classic melodic power metal of early Angra, Edguy and Symphony X. The Shape of Things to Come is very melodic without getting into sing-song territory, has a nice use (but not overuse) of keyboards, and even has some progressive metal elements and lyrics that are more meaningful than the average power metal album. As with the first Clairvoyants album, the musicianship is very tight, and as with the first album it's the flashy guitar work of Luca Princiotta and the dynamic, powerful vocals of Gabriele Bernasconi that really stand out on The Shape of Things to Come.
The Shape of Things to Come is an incredibly strong album overall, and one that really doesn't have any weak moments. It's hard to tell which songs work the best – the heavier songs like "No Need to Surrender" and "Endure and Survive" or the more melodic (but still powerful) songs like "Prometheus." Even the more subdued "Just the Same Story" and "The Sinner's Tale" work really well. As the album draws to a close, the pace picks up dramatically, with the hard-charging "To Heaven and Back" and "Here Today, Gone Tomorrow" getting the blood pumping (and heads banging) before the soaring 8-minute "Horizon Calling" ends things on an epic note worthy of an Avantasia album.
Once again, Clairvoyants have released what is arguably the year's best power metal album. Hopefully more people are paying attention this time around, because this is a band that deserves a lot more attention, and The Shape of Things to Come is an album that fans of the classic melodic power metal sound really need to hear.
Genre: Power Metal, Melodic Metal, Heavy Metal
Band:
Gabriele Bernasconi (v)
Luca Princiotta (g)
Marco Demartini (g)
Paolo Turcatti (b)
Manuel Pisano (d)
Track Listing:
1. No Need to Surrender
2. I Don't Believe Their Lie
3. Endure and Survive
4. Just the Same Story
5. The Shape of Things to Come
6. Prometheus
7. The Only Way Out is Through
8. Sinner's Tale
9. To Heaven and Back
10. Here Today, Gone Tomorrow
11. Horizon Calling
Label: Valery Records
Website: www.clairvoyants.it
Hardrock Haven rating: 9/10