Davey Suicide | Davey Suicide
by Mark Allen
Staff Writer —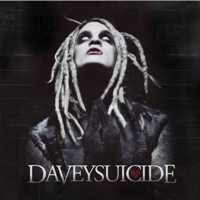 Post-industrial meets hard rock meets sleaze-metal in an expectations-exceeding mash-up on this debut from rock 'n' roll insurgent Davey Suicide. The press release refers to him as "a rebel raging through town with distortion blaring, middle finger in the air, girls dropping their panties, and flames everywhere." It'd be a nice piece of flamboyant hyperbole… except it's true. Well, except for the girls dropping their panties. And the flames. Maybe Suicide can get the girls to drop their panties into the flames, 'cause that would be cool as hell…
Seriously, regardless of whatever hype his publicist is trying to push, Davey Suicide's debut is a hard rock force to be reckoned with. While Suicide is not the first to try this style — Shotgun Messiah crossbred industrial with hair metal way back in '93 — he is among the first to inject it with this many hooks and arena-ready anthems. This album is one quarter White Zombie, one quarter Nine Inch Nails, one quarter Guns N' Roses, and one quarter '80s hard rock. On paper, it's an amalgam that sounds like it should be an epic failure, but sonically it works amazingly well.
Davey is gifted with a great metal voice, graced with grit that never goes to gravel, somewhere between Tim Skold and Rob Zombie. In keeping with industrial tropes, he sometimes electronically mechanizes his vocals but never to the point of distraction (unless you cannot stomach anything with an industrial edge, in which case you are advised to avoid this album anyway). His vocals have that Axl Rose gutter-rat sneer and all the angry-at-the-world attitude you can ask for.
Proof of this can readily be found in the band's first single, "Generation Fuck Star," an anthem of disillusionment that burns with enough renegade attitude to make Trent Reznor seem happy-go-lucky. And yet, beyond the ballsy guitars and slamming drums is a song about self-empowerment: "Generation Fuck Star / The lost have found their way / Revenge will have its day / Cross your heart / We confide / Put your trust in Suicide." Accuse him of lyrical ego-masturbation if you must, but Davey delivers his trademark rebel anthem with sincere conviction.
This is an intense album from start to finish, thrashing you with pummeling power chords while the drums hit you like body blows from an anvil-fisted prizefighter. But throughout the course of the crunchily corrosive chaos, Davey never loses sight of those crucial hooks. This is one of those rare albums that is musically vicious and super-catchy at the same time. It pulls no punches, but your ears will welcome the smack-down.
That said, Davey is not all serious all the time; he's more than willing to aim below the waist now and again. "Hustler Queen" lays down a raunchy groove with lyrics to match, using gang vocal "Hey-hey-heys!" to drive the sexy home. "Uncross Your Legs" channels the spirit of Nine Inch Nails while delivering lines that would make Reznor vomit: "I'm just the devil / You can call me Cupid / I'll rock your world / And you're not that stupid." And what to make of "Unholywood Killafornia" with lyrics like "All the ladies want to fuck / So grab your crucifix"? Religion meets sleaze…now that's different.
Davey Suicide is one of the best surprises of 2012. He brings bitterness, bombast, and badass in equal measure and whips it into an industrialized metal concoction that hits the ears hard and yet is commercially easy to digest despite the vitriol and venom. He may sport an incisive moniker, but Davey Suicide is one heavy rocker that won't make you want to self-terminate after you give his music a spin.
Genre: Hard Rock, Post-Industrial, Glam, Sleaze
Band:
Davey Suicide (vocals)
Frankie Sil (bass, backup vocals)
Ben Graves (drums)
Eric Grifin (guitars)
Needlz (keyboards, programming, backup vocals)
Track Listing
1. Cross Your Heart
2. Generation Fuck Star
3. Sick Suicide
4. Hustler Queen
5. Uncross Your Legs
6. Unholywood Killafornia
7. In My Chest Is a Grave
8. Kids in America
9. One More Night
10. Professor Asshole
11. Grab a Gun & Hide Your Morals
12. Fallacies
13. God Head Killers
14. I'll Take a Bullet For You
Label: Standby Records
Webpage: www.daveysuicide.tumblr.com
Hardrock Haven rating: 9/10