Dublin Death Patrol | Death Sentence
by Alissa Ordabai
Staff Writer —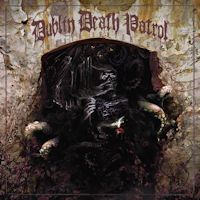 The contrast of two sui generis voices – Chuck Billy's fire-eating roar and Steve Souza's gelastic snarl continue to stamp Dublin Death Patrol's releases with an instantly recognisable sound. Having three guitarists proves to be not a trivial decision either, and the end result is a high-powered sophomore record full of tension and drama.
Opener "Mind Sewn Shut" is a perfect synergy of ambitious production and crafty songwriting, setting the tone for the rest of the album. Somewhere between old-school thrash a la early Testament and hypnotic, effect-laden industrial gloom, the record builds a big, sprawling soundscape while simultaneously showing muscle with its superb riffs and focused, intense composition.
As much as the proceedings are haunted by a dark, sinister mood and as much as the band likes to show off their no-nonsense chops, there is still enough room to occasionally deviate from the formula and to throw in some starkly aggressive punk numbers (see standouts "My Riot" and "Butcher Baby") while not breaking the unified feel of the record. Charting the lineage of thrash and proving how it can still thrive in the new millennium, this release is a must both for veteran fans and newcomers to the genre.
Genre: Thrash Metal, Industrial Metal
Personnel:
Chuck Billy – vocals
Steve "Zetro" Souza – vocals
Willy Lange – bass
Steve Robello "Steevo" – guitar
Andy "KK" Billy – guitar
Greg Bustamante – guitar
Danny Cunningham – drums
Track Listing:
1. Mind Sewn Shut
2. Dehumanize
3. Blood Sirens
4. Broken
5. Welcome to Hell
6. Conquer and Divide
7. Death Toll Rising
8. My Riot
9. Macabre Candor
10. Butcher Baby
Label: Mascot Records
Online: www.dublindeathpatrol.com
Hardrock Haven rating: 7/10