Firewind | Few Against Many
by Nikiforos Skoumas
Staff Writer —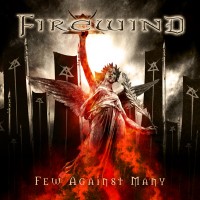 It has been two years since the release of Days of Defiance and Greek-based melodic-power metallers Firewind are back with their seventh studio offering entitled Few Against Many. A couple word tours and quite a few side-projects intervening, Firewind are back with a renewed record label courtesy of Century Media and a new musical direction.
Few Against Many features the established line up of band-leader and contemporary guitar hero Gus G, long serving bassist Petros Christo, keyboardist Bob Katsionis and lead singer Apollo Papathanasio plus new drummer Joe Nunez, also a full time member of Nightrage.
The new album is more about rhythm and groove than melody with emphasis on guitar riffs, hard hitting drumming, minimal amount of keyboards while the vocals carry the majority of whatever melodies found on Few Against Many. Upon first play you might find the album being very aggressive and 'bad-ass' so to speak; yet the truth is that Firewind are mostly known for their well crafted melodies and infectious choruses, arguably a key element separating them form the majority of Euro-Power outfits. On Few Against Many it seems that the choruses are not so well developed- you could overlook the too-predictable and bland opener "Wall of Sound" and the down-tempo atmospheric "Loosing my Mind," still, by the time you reach track three "Few Against Many" you can definitely tell there are loose ends on the songwriting of the new album. Of course the shredding is still there, and the vocal lines still lead the compositions, yet that hardly compensates for the under-developed material.
In addition there are a couple of thrashy-tunes on this one where Nunez uncovers a great deal of his Nightrage drum style, with basic staccato drumming complemented by distorted-yet-simplistic bass lines, and truthfully that's far from what Firewind are accustomed to. Overall, it is not the change of direction that might put one off Few Against Many just the notion that the material on offer, is not as meticulously composed as previous records, allowing the impression of a rushed-out record. You would be right to expect more from Firewind than Few Against Many because it bares very little of the musical essence of the group.
Genre: Heavy Metal, Melodic Metal
Line up:
Apollo Papathanasio: Vocals
Gus G.: Guitar
Petros Christo: Bass
Bob Katsionis: Keyboards and guitar
Jo Nunez: Drums
Tracklist:
1. Wall of Sound
2. Losing My Mind
3. Few Against Many
4. The Undying Fire
5. Another Dimension
6. Glorious
7. Edge of a Dream
8. Destiny
9. Long Gone Tomorrow
10. No Heroes, No Sinners
11. Battleborn (bonus)
12. No Heroes, No Sinners (acoustic, bonus)
Label: Century Media
Hardrock Haven rating: 6.5/10