by Alissa Ordabai
Staff Writer —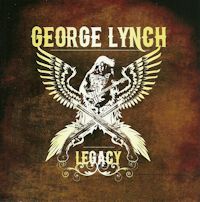 The new EP release by George Lynch is an instantly gratifying guitar fest comprised of 4 rousing instrumentals – all about the shred-meister's technical brilliance, but also his sharply focused, vigorous songwriting.
Raunchy grooves and blistering solos spiral in and out of each other on opener "Blood Drive" where the hard rock formula is spiced up not just by Lynch's convention-defying leads or the prog-inspired middle 8, but also his trademark sound.
Lynch's transparent, yet fulsome, muscular tone and his vast range – as always – put an immediately recognizable stamp on his playing, but it is his complex, off-the-beaten-track soloing that is the real draw of this release. The spontaneous twists and turns, unexpected melodic diversions, and the flying ease of his articulation are all responsible for the unmistakable soundscape which is at once transparent and richly textured.
But despite the opener's brilliance, it's the "Invoid" – a hard rock epitome par excellence – which is the biggest standout of this EP. Packing enough ideas into 5 minutes for most other players to have based a full-length album on, it is an exuberantly fluid, yet punchy track, with constantly evolving ideas defying the usual notion of hard rock harmony as an inflexible constant.
"The Road Ahead" is a perfect closer – with eloquent melody and raw emotion unobscured by the edicts of the hard rock ballad style. And while on the one hand you could say that this release is about a standard stylistic range expected of a hard rock veteran, the interpretation which Lynch gives to the genre's conventions is nothing short of unique. His expansive vision of his instrument and his writing based on personal realities make hard rock a living, breathing thing – not a dogma or a frozen set of old rules.
Genre: Hard Rock
Personnel:
George Lynch – guitar
Rev Jones – bass
Michael Frowen – drums
Track Listing:
1. Blood Drive
2. Circulo Del Fuego
3. Invoid
4. The Road Ahead
Label: Rat Pak Records
Web: www.georgelynch.com
Hardrock Haven rating: 8.5/10