Jorn | Bring Heavy Rock to the Land
by Justin Gaines
Staff Writer —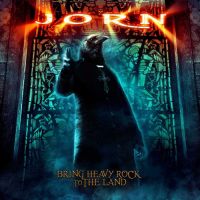 Norwegian super-vocalist Jorn Lande and company are back with a new album, titled Bring Heavy Rock to the Land. It's Jorn's first original studio album since 2009's Spirit Black, but Jorn has hardly been idle these past few years. In addition to his work with Masterplan, we've seen a compilation, a live album/DVD and of course the Dio tribute album. Those don't quite satisfy like a new Jorn album though, so Bring Heavy Rock to the Land was eagerly anticipated.
Unfortunately, Bring Heavy Rock to the Land is something of a letdown. Sure, it's Jorn doing what he does best, but the album seems kind of flat, like he really didn't have much songwriting inspiration this time around and is just going through the motions. It says something that the album doesn't really have a standout track until the fourth song, and that one's a cover of Christopher Cross's "Ride Like the Wind." Jorn seems to be taking his cues from Saxon's version, which is a good call. Jorn also offers another take on the Masterplan song "Time to Be King," changing the arrangement so it's more to his style of melodic metal. Of the new material, most of the songs just don't stand out. Well, the title track does, but that's more for its cheesiness than anything else. There are a couple of exceptions though. The slow build and powerful heaviness of "The World I See" is a song that makes you stop what you're doing and really take notice, and "Black Morning" has a great AOR vibe, acoustic strumming and soulful, bluesy singing that just goes right to the heart.
Bring Heavy Rock to the Land isn't a bad album by any means. The musicianship is tight, the production is pristine and of course Jorn sounds incredible. The songwriting just isn't at the level we've come to expect from Jorn, and the result is probably the singer's weakest solo album to date. Obviously if you're a major Jorn fan, you'll want to check it out, and there are at least 3-4 songs that will make it worth your while. Just don't expect the usual Jorn magic this time.
Edition Notes: The physical release of Bring Heavy Rock to the Land comes in a digipack and features the bonus track "Live and Let Fly."
Genre: Heavy Metal, Melodic Metal
Band:
Jorn Lande (v)
Tore Moren (g)
Willy Bendiksen (d)
Nic Angileri (b)
Tor Erik Myhre (g)
Track Listing:
1. My Road
2. Bring Heavy Rock to the Land
3. A Thousand Cuts
4. Ride Like the Wind
5. Chains Around You
6. The World I See
7. Time to Be King
8. Ride to the Guns
9. Black Morning
10. I Came to Rock
Label: Frontiers Records
Website: www.jornlande.com
Hardrock Haven rating: 7/10