Krock's 6th Annual Dysfunctional Family Barbecue (DFB)
by Sara McCarthy
Staff Writer –
May 27, 2012 Chevy Court at the New York State Fairgrounds, Syracuse, NY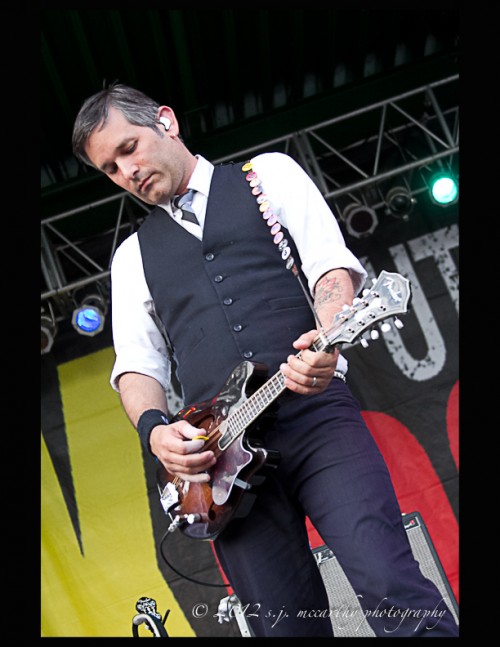 Every rocker in Central New York knows that the short but jam-packed summer concert season officially starts every year with the DFB aka Dysfunctional Family Barbeque. This one-day festival is produced by Galaxy Communication's modern rock radio station 100.9 Krock. The phone calls and questions about when where and who will be at the show start earlier and earlier each spring. Rainman, arguably the station's favorite DJ, makes the announcement typically on a Monday afternoon during the Ride at 5. This year was no exception, those not in their car listened either from their computers or on Radio Loyalty, an app that streams radio stations. This year's line up was packed with an eclectic grouping of bands including The Dirty Heads, Filter and headliners Flogging Molly.
The gates opened at eleven and although the official rules state that there is no tailgating allowed, it is obvious there is no way to enforce this rule. Concert goers had beer-pong tables set up, Jello shots were being sold, every few hundred feet another vehicle had its' windows down and sound system blasting one of the acts for the day. The fans were obviously enjoying themselves, meeting new people and catching up with old friends.
Inside the show were food and drink vendors, merchandise booths, and tents offering products of all sorts. Having such a large space makes for a very happy crowd, the lines for beers were never too long and there was room for those that just wanted to hang in the back and take it all in.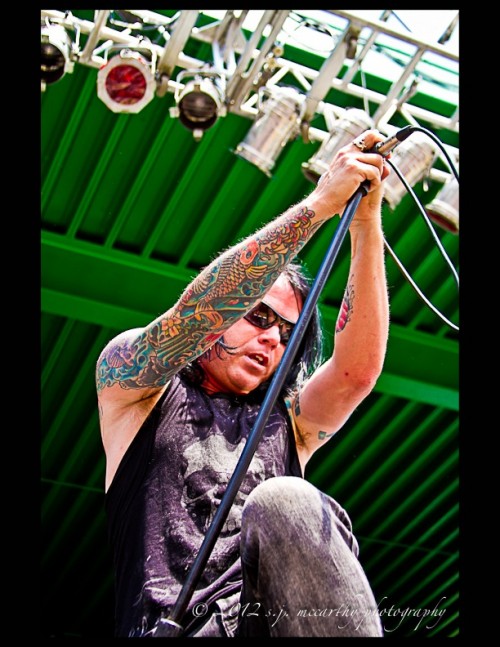 The Dreaming, out of Hollywood is fronted by Stabbing Westward's Johnny Hall was the third band to take the stage. Playing a mix of songs off their album Puppet and Stabbing Westward hits, the crowd was very responsive. Hall's voice was top notch and it was awesome to hear him hit those ultra high notes he is known for. The band tore up the stage and was all over the set, working the crowd up into a frenzy. Fists pumping and crowd surfing, the fans were having a blast.
The Dirty Heads were another crowd favorite. A sound that is a fun mix of reggae, rock and rap, you are unable to sit still while watching these guys perform. Their lyrics are quirky, and songs so energetic, singer Jared "Dirty J" Watson, danced all over the stage, and when he started singing their latest single "Spread Too Thin" fans intensified their singing and security had their hands full with the additional crowd surfers rolling off the front of the barriers. They closed their set out with "Lay Me Down" the single featuring Rome Ramirez from Sublime with Rome. Their new album Cabin By The Sea is set to drop on June 19, 2012.
Headliners Flogging Molly was a 360-degree change from all of the other bands. Also from Los Angeles, this Celtic punk band had their work cut out for themselves when they took the stage. The younger members in the crowd were not overly interested and had started to head for the gates. Opening with "The Wrong Company" band members grabbed a hold of the crowd and showed them there is more to rock than just guitars, bass and drums. They incorporated fiddle, mandolin, banjo, tin whistles and some more obscure instruments such as a bodhran. The resulting performance was awesome to take in. This group of seven musicians had a blast on stage, laughing, smiling, jumping all around and engaging the crowd. Fiddlist Bridget Regan was actually performing with a broken foot and that didn't slow her down a bit. Flogging Molly, although a bit off the path for a typical Krock fan, closed out the day with a bang and all of the naysayers realized that Celtic punk rocks too!
Krock 6th Annual DFB Line Up:
Cry To The Blind – www.crytotheblind.com
Weaving The Fate- www.weavngthefate.com
The Dreaming- www.thedreamingband.com
Twelve Stones- www.12stones.com
Dirty Heads- www.dirtyheads.com
Hurt- www.hurtband.com
Filter- www.officialfilter.com
Flogging Molly- www.floggingmolly.com
Krock's 6th Annual Dysfunctional Family Barbecue (DFB) 2012 Photo Gallery
Photos appear courtesy of Sara McCarthy