by Craig Newman
Guest Writer —
March 23, 2012 at the Canyon Club at Agoura Hills, CA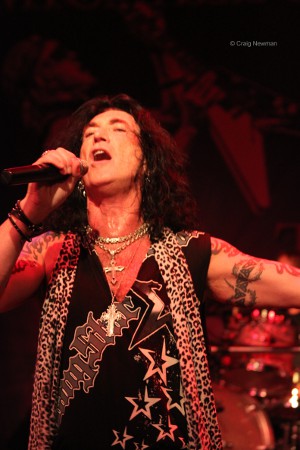 Supporting MSG's latest album Temple Of Rock brought about the reunion of Michael Schenker and Robin McAuley (McAuley Schenker Group) for their first U.S. tour together in almost 20 years. The show was energized from the start to the end, opening with William Shatner's spoken introduction from Temple Of Rock, MSG launched straight into the song "Into The Arena." They played songs from MSG and from Schenker's time spent with UFO and Scorpions performing crowd favorites such as: UFO's "Love to Love," "Doctor Doctor," "Lights Out," "Rock Bottom," and "Lights Out;" the Scorpions "Only A Man," "Another Piece of Meat" and "Make it Real;" and MSG's "Save Yourself," "No Time For Losers" and the new song from Temple of Rock "Fallen Angel."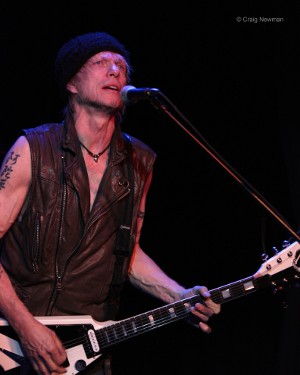 The full band lineup for this tour features; Michael Schenker– guitar, Robin McAuley (Survivor, MSG) – lead vocals, Wayne Findlay – keyboards, Rev Jones- bass guitar, Pete Holmes (Black 'N Blue) – drums.
Though the focus of the show is Michael, and he shredded, Robin McAuley vocals are still strong, he even displayed some dance moves. Rev Jones is a show just by himself with his constant jumping, spinning over the stage and drum riser, and various facial expressions. Wayne and Pete kept the rhythm to the maximum with energy from beginning to the end. Robin, Wayne, and Rev were having fun and with the audience, Michael was hand slapping the people in front of the stage during the show and took photos of the audience at the end of the show.
Set List:
Into the Arena
Armed and Ready
Lovedrive (Scorpions)
Another Piece of Meat (Scorpions)
Lover's Sinfony
Save Yourself
Let Sleeping Dogs Lie
Rock My Nights Away
Shoot Shoot (UFO)
Love to Love (UFO)
Too Hot to Handle (UFO)
Let It Roll (UFO)
Natural Thing (UFO)
Lights Out (UFO)
Rock Bottom (UFO)
Encore:
Doctor Doctor (UFO)
Opening the show was local band Stonebreed, that have a strong southern influence yet rocked the audience. Carlos Cruz Bates the singer, interacted well with the audience. The rest of the band includes; Don Boads on bass, Chris Torrey on drums, Dave Eggers and Steve Sampson on guitars. The band is currently finishing a demo and playing many show around Southern California. This is a group and with formula to have their music heard across the U.S. and at other countries so keep an eye out for them.