LIVE! | Scorpions with Tesla
by Craig Newman
Guest Writer —
June 22, 2012 at the Staples Center at Los Angeles, CA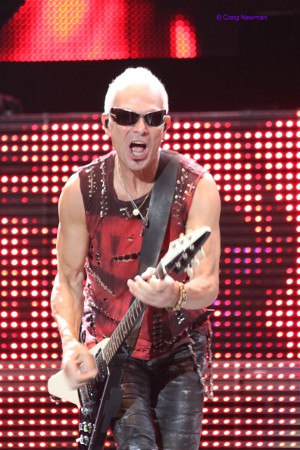 For four decades the Scorpions have given us quality rock music with love, relationships, party and politics in their music and lyrics with respect. The band is currently on their two year farewell tour, Get Your Sting and Blackout, in support of their 18th studio album Sting in the Tail. Rudolph Schenker, Mathias Jabs and Klaus Meine are older but their venom is still potent. The band also features drummer James Kottak and bassist Pawel Maciwoda who are the rhythmic force driving the music.
The show opened with "Sting in the Tail" and "Make it Real." An energized Rudolph Schenker worked the stage like a pro, running from the stage to the catwalk and back again, time has not slowed this ageless veteran. Schenker changed his guitar to his signature Flying V throughout the evening. With a 22 song set list, the crowd sang along to classic Scorpion songs like; "Blackout," "The Zoo," "Send Me an Angel," and "Loving You Sunday Morning." The band encored with "Rock You Like A Hurricane," featuring Kottak performing a drum solo, along with "Still Loving You" and "Winds of Change."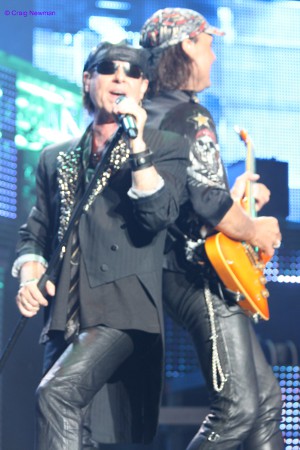 Opening the show was California's North Bay area rockers Tesla. They energized the crowd performing "Cumin Atcha Live," "Love Song," "Modern Cowboy" and the '70s song "Signs." It is good to see they are still performing and will be on the Monsters of Rock cruise in 2013.
Along with the "older" generation of fans, they are now plenty of new faces in the crowd, made up of children of parents, relatives and friends, showing their support for these bands from the '70s and '80s. This in turn helps keep the music of these artists alive, regardless of the lack of radio airplay supporting this genre of rock n' roll and heavy metal.