SPIKE & GUY OF THE QUIREBOYS
by Marija Brettle
Staff Writer —
The Quireboys first emerged during the late 1980's with the classic singles 'There She Goes Again' and 'Hey You', incorporating elements of blues, as well as rock 'n' roll. In 1990 they were signed by EMI for the release of their acclaimed debut, "A Bit of What You Fancy".
During this time they have played some of the biggest and best gigs on the planet, from the Marquee Club, Hammersmith Odeon, to the prestigious Rolling Stones and Guns 'n' Roses support slot.
In 1993, the band released their much anticipated second album, Bitter Sweet & Twisted, but by this time grunge arrived with a vengeance and the album, despite the best efforts of the band and producer Bob Rock was unable to reach the heights achieved by its predecessor. Disheartened and confused, the band decided to call it a day.
The Quireboys re-formed in 2001 when Spike and Guy signed a new record deal with Sanctuary Records and released the bands third studio album This Is Rock 'n' Roll in 2002 and followed it with the moderately successful fourth studio album, "Well Oiled" in 2004. In May 2008 they released their fifth studio record, "Homewreckers & Heartbreakers" to universally great reviews.
More recently, 2010 saw the release of Halfpenny Dancer, a reworking of some of their best loved songs along with some inspired covers. 2010 also saw The Quireboys make a welcome return to the UK Festival scene with a dynamic and rollicking performance, opening up the main stage at High Voltage. This year the band are back with their much anticipated This is Rock And Roll UK Tour and are already busy in the rehearsal studio writing material for their new studio album which begins recording in early September.
During this tour, we caught up with The Quireboys frontman "Spike" and the bands guitarist Guy Griffin. We talked about the 'Monsters of Rock' Festival, their upcoming Download show, all about their highs and lows during their stay in America and of course their upcoming new record, and more touring.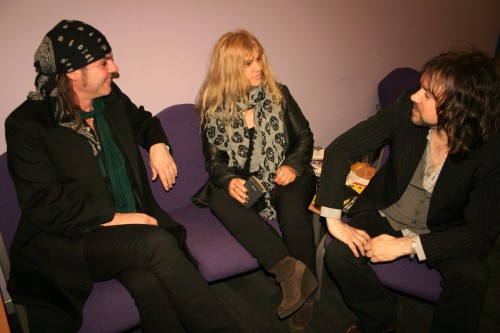 HRH: Hi guys, great to see you here again.
Spike: Hey, how are you…would you like a drink! (he offers me a beer)
HRH: It's been a long time since I saw you here in this venue and I must say you don't look any different; the same eye liner, same scarves, headbands and the same rock 'n' roll! How do you managed to stay true to your original style all these years?
Spike: Yeah, it's been a long time… I think twenty years or more. When we started with this band, Guy was at school then and now he's got a beard and looks much older. (Laughs) It is all good. I can tell you, there's never been a better time to be a Quireboy. Sure we've had our fair share of incredible highs and some well-documented lows. But these days the only way is up. Everything is looking up! The thing about The Quireboys, is we always have very good support and loyalty from our fans outside of the industry.
Guy: We were parted for a while and yeah we always did the same kind of music. I mean, if you wanna do anything drastically different, then go and do it with another band or do a solo.
HRH: Yeah…
Spike: We just play pure rock 'n' roll. You know, we come from a good era of music. We grew up with the Rolling Stones, Slade and Mott the Hoople. So it's a bit of everything that we do. I mean, we can play country music. We can play blues, we also play heavy rock and we can still sound like The Quireboy. You know what… we're the only rock 'n' roll band left! (Laughs)
HRH: It was a real treat to see Pat McManus joining you on stage tonight on the fiddle. How did this collaboration happen?
Guy: Keith sorted it out… we all loved 'Mamas Boys'. Pat is a genius and a real gentleman!
HRH: So how did Keith end up in the Quireboys?
Spike: We were all in the States then. We used to see Keith in LA when we were gigging in the States. The next thing, when the Quireboys got back together we called him. So we flew Keith in from Belfast first class, for his first show. He's been travelling second class ever since! (Laughs)
HRH: Would it be fair to say that with this tour, you have once again brought the Quireboys back into the present. Showing people that this band still going strong?
Guy: I think it is fair to say that the band is stronger and better than it was in the old days… But does that matter for nostalgia seekers? The band is still rolling!
Spike: Yeah, we signed the new record deal and this tour is basically like a warm up tour before we do Donington again.
HRH: It's been almost 22 years since I saw you live at the Donington's 'Monsters of Rock' Festival and I remember you had a brilliant reception from the crowds. What are your memories of that day?
Guy: I remember getting a gold record and Aerosmith blowing Whitesnake off the stage! It was a great day though… nothing I can articulate on a keyboard. (Laughs)
HRH: You were also praised later by David Coverdale who called you "The best and most refreshing news for the British Rock".
Spike: David Coverdale has always been good friend of ours since then and we did a lot of shows with Whitesnake around that time. Then we actually came back and did play. When we did play with Whitesnake (asking Guy)…was it 2006? Yes, it was here in England. We're still great friends with David.
HRH: How was it for you to suddenly stand in front of 72,000 people?
Guy: (Laughs) what do you think? It was like everything you could think of, goes through your mind! I was this 20 year old guy… We have done many shows like that over the years, but that was a special one.
Spike: I mean all the hard work in the Quireboys was done by the time he joined the band. (Laughs) Well, The Quireboys was already big by the time we got to do Donington Festival. The Donington thing was more like the celebration of our success really; we already had the big album and things…
HRH: This summer's Download Festival looks even more exciting for you, with the slot alongside bands like The Prodigy and Europe. What can we expect from you this time as a band?
Guy: The best show of the day!
HRH: I heard you are planning to play a few acoustics again. What set of songs will you be playing?
Guy: We love playing acoustic. We play a drastically different set to the electric one; it keeps it interesting for us and whoever is listening.
HRH: For the first time in years, Download Festival seems to have an 'old school' feel to it. Why do you think so many bands from the late 80's and early 90's have been added to the bill?
Guy: Who buys the tickets at Rock shows and festivals? I guess that is the answer.
HRH: In the early 90's The Quireboys was arguably the band that enjoyed the most Stateside success out of all the British bands of the time. I heard you even gone gold in Canada and Japan. What was the highlight for you as a band during that period?
Guy: Playing New Years Eve in Tokyo with Bon Jovi. Tokyo Dome was great; we toured for months and months. America and Canada were even better and educational for young English chaps. But then there were also many downsides during that time… Even in the 80's when The Quireboys first came out and we did our first album, there were times when we had to put up with a lot of American rock bands and stuff. You know, we were nothing like them… we were just doing our own stuff. We just kind of get on with it, because we were around at the same time with so many bands like Poison, which we couldn't relate to musically or else.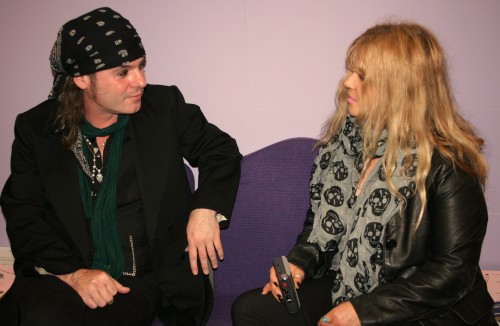 Spike: I think all our influences are very English. The Rolling Stones took all the blues from America and recreated it. So we all go through it… we just happen to do what we do and enjoy it.
HRH: What was the original reason to move to the States? Did you all move there?
Spike: We all did yeah. We all just moved on pretty much, had kids, got married and did different things.
Guy: I stayed there for thirteen years. We made the record there and we toured in America, so it was the inevitable thing. We got to know a few bands and stuff, and then you go and meet your new girlfriends. (Laughs)
HRH: How important was it for you then, to work with Sharon Osbourne as a manager in terms of touring and promoting your debut album?
Spike: She is great! She is really funny… brilliant! We couldn't say a bad word for her. She really took care of the band.
Guy: Sharon was fantastic and her record stands up for its self. The band was already pretty big before she was involved, but then she took it to another level.
HRH: Back in the late 80's early 90's the band enjoyed huge success. Many years later, The Quireboys are still one of the UK's most respected live bands. What's the secret to that longevity?
Spike: I'll tell you what… for us, music is just a good time rock n' roll and everyone can come and have a good time. With The Quireboys it's all real; you know it's from our hearts. I mean…what you find is, that in the late 80's all those hair bands sounded the same and everybody's done the same video, so people got soon tired of them. With us, it's always been different! What we do, never goes away.
Guy: Yeah… three chords rock 'n' roll!
Spike: You know what…I'm gonna teach him how to do four cords! (Laughs)
Guy: We always play 100% every night, it doesn't matter if it's 20,000 or 200 people, we love what we do, and that's the difference between us and others.
HRH: Would you agree that it's also down to writing the good songs and staying true to your original sound?
Guy: Yes, exactly!
HRH: You have a reputation as the best band who knows how to get the crowd going and for years you have been opening for many other bands such as Judas Priest, David Bowie, Sex Pistols, Aerosmith, and Motorhead. What was your experience playing on the same stage next to bands as big as Sex Pistols?
Spike: I think what you find is that the more famous the bands are, the more grounded and genuine they are. With the many bands we worked with in the past, we are still great friends because they're the nicest guys you can ask for. Usually the bands who they think are famous; they're the ones who have big heads… (Laughs)
Guy: Yeah, those who think that with attitude, they'll go far in this business. It's usually support bands who have just sold a few records that are the disappointments.
HRH: When you were asked to open for Rolling Stones in Newcastle, which happen to be Spike's home town, was it like a dream come true for you as a band?
Guy: Yes! These types of shows are always more special than playing a festival. "Stones" are very nice people. You know… it is nice to be recognised by your peers.
Spike: I have to say, when we played the Rolling Stones in my hometown in Newcastle for me it was the biggest highlight ever! Even Steven Tyler was jealous. It was like, "Oh man, what an honor". Because Aerosmith's never played with the Stones have they? (Asking Guy)
Guy: I can die happy man now! Well at least we learned a few things from them, like how to stay in rock forever. (Laughs)
HRH: In 2009, you did the acoustic album, "Halfpenny Dancer". How did the idea for that one come about?
Guy: We all love that type of music, country and blues, every song written by us is written on acoustic guitars so it is not a great leap for us to do this.
HRH: It's been almost five years now since your last studio record; Homewreckers and Heartbreakers was released. I hear you are working on your new songs. What it's the the current dynamic in the band in terms of song writing?
Guy: Gray/Griffin and a healthy dose of Guerin.
HRH: You played two new songs tonight?
Spike: Yeah, we played "Too Much of a Good Thing" and "Mother Mary". We have to try them.
Guy: You got to see how well the audience responds to it. I mean, you play new songs and there is no reaction… (Laughs)
Spike: Yeah. Yeah, it's great to play the new stuff! The audience come back to us every night and its like, 'Wow, we love you new songs!' So it's all good so far.
HRH: Would you say that you have two generations of fans at your shows?
Spike: Oh yeah… especially in Scandinavia and Spain, everywhere we go.
Guy: It's a good mix of people. Much younger audience in Scandinavia though.
Spike: Yeah, they all dress like Griff… (Laughs)
HRH: Well if you notice tonight most of the guys look and dress really like you Spike.
Spike: If they only knew that I've been wearing these same clothes for twenty years. (Laughs)
HRH: You've got the new album in the pipe line. Tell me more about it… what can we expect from this record?
Guy: The best rock and roll album!
HRH: Why did it take you almost five years to get back in the studio again?
Guy: We have been on the road almost constantly, we have recorded over the last couple of years, but we always want to improve on everything we do… who knows? We may scrap everything and start again! (Laughs)
Spike : Well, we did a demo and we're gonna record it.
HRH: When will you be looking to get it all finished off?
Guy: We hope to have it released in September. We have done five songs actually. We recorded five songs.
Spike: We're really looking forward to finishing it and more touring. Yeah, definitely! Well, we've got a new manager now and a new agent. We've signed a new record deal so it's all changed in the past few months. They're some great new songs. Right now we're in the process of recording new songs for the new album and we're gonna carry on doing that over the summer. Then we're gonna tour again in September, October right through.
HRH: What would you say are gonna be the highlights on your new album that will stand out and differ from the last one?
Guy: I would say, wait for 'Mother Mary'!
HRH: Do you have any bizarre tour stories you would like to share with us?
Spike: Tell them about last night… (to Guy)
HRH: What happened last night?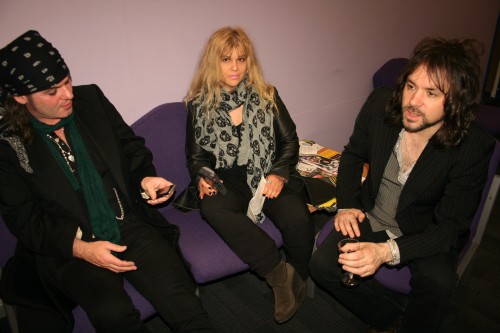 Guy: Ahhh, last night was the good one… we had the Spike impersonator. This guy just got up on stage and sang with us, so we had two Spike's on stage. So, now we got a substitute if Spike got wasted or sick and God forbids he lost his voice (Laughs).
Spike: Yeah, "Spike 2" and he sang better than me. (Laughs) You know, when we started with the band I was originally gonna be playing the guitar. Well, I'd never sung before so I never expected to become the singer really. I mean, Thank God I can still sing. (Laughs)
HRH: You both are sole surviving members from the 90's line-up of The Quireboys. How does the atmosphere and vibe of the group nowadays compare with back then?
Guy: It's the same as we have always been and always will be. We do our thing and let everyone do their thing. I mean, nobody plays how we do.
HRH: Guy, you know Spike more than anybody in the band. He always looks happy and he sure loves his drink. How would you describe him in your own words… well if he wasn't here with us?
Guy: (Laughs) Pain in the ass… my brother, one of my greatest colleagues. What a lovely bloke!
Spike: Cheers Griff… now have a drink!
HRH: What makes you the happiest in this business and what would make you drop everything and finish for good, if anything?
Guy: I hate the business, but I love playing music! I love that music exists, despite the business being desperate.
HRH: What lies ahead for you as a band? Maybe another 27 years of good time Rock 'n' Roll?
Spike: The same guys, writing songs about; drinking, women, drugs and cars. (Laughs)
Guy: Zimmer frame rockers!
HRH: Thank you guys for taking the time for HARDROCK HAVEN. Best of luck with the Download Festival and the recording of your new album!
The Quireboys 2012 Photo Gallery
no images were found
Photos appear courtesy of: Jadranka Jade