Terry Ilous of Great White
by Craig Newman
Guest Writer —
My first meeting with Terry was during 1990 through a friend who I was working with at a music artist management company. After meeting Terry my friend went on to becoming XYZ's tour manager for their first U.S. tour. On that tour when XYZ came to Hollywood, CA for their show at the Palace, it was recorded for a live album and aired on national radio. I was fortunate to be able to take photos of that show. And last year after posting them on a social media site, I contacted Terry and met him at a local benefit concert. Which led to this my, first interview with Terry Ilous.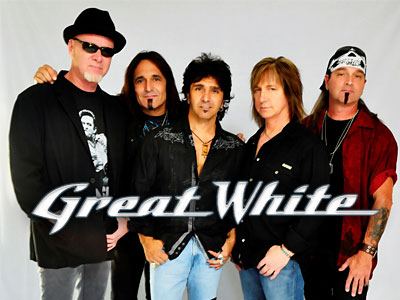 Hardrock Haven: How did you get chosen to be the new singer of Great White?
Terry Ilous: I have known Michael Lardie for 20 years. He worked and engineered part of the first XYZ album. Great White and XYZ have the same agent and when Jack got ill I got asked if I would fill in until Jack got well. And that's what happened.
Hardrock Haven: How do the band members feel about the new album (Elation) being in #42 in the U.S. Top Hard Rock Albums and #93 on Independent Album Chart?
Terry Ilous: We are very happy about it. Is a great start! I want to thank the fans, GW family and fans to be open minded. It is hard to replace Jack, who is a great singer. We have a lot hard of work ahead of us and reaching bigger goals. I'm most excited for my team.
Hardrock Haven: With you currently being the singer of Great White are you still able to sing and write for your band XYZ?
Terry Ilous: I will always be able to write for XYZ or anybody for that matter. Right now I am focused writing for Great White and with radio and press interviews. I can't spread myself thin. Only 24 hours in a day. I am a dad and my daughter and I are into martial arts. Also I have to live my life as well (laughing).
Hardrock Haven: Great White and XYZ were at the 2012 Monsters of Cruise Festival. Also Great White and XYZ where on the 2012 MOR cruise, how was it?
Terry Ilous: It was amazing! The ship holds 4,500 people and to talk everybody and take pictures everyday on the deck. It was casual and friendly. Things have changed now days for fans to meet their favorite singer or actor cause of the internet. It is a good a thing to make it easier to approach you like such as your favorite rock star.
Hardrock Haven: Any new info on your humanitarian work that you are involved with?
Terry Ilous: I am always looking to help more. Helping other people helps me and feels good. Helps me out, makes me feel whole inside. Very satisfy to know I help a needy person, homeless and kids. I am always open to any charity event, any kind of donation. I know what is like to have no money and to be homeless. I have been up and down in my career where I had a lot of money and then have nothing. Helping others is a big, big thing to me! I believe in giving is receiving and I go by that.
Hardrock Haven: Any benefit shows planned?
Terry Ilous: Not at the moment but if you need me I will be there. I will be doing some things this winter at Boston and Rhode Island to help kids. It's a Foundation called Rock for Christmas founded by a friend Wayne Morrison, every year to help raise money for toys.
Hardrock Haven: Can you tell me what is cool about those shows, such as the ones last year at Harper's Bar & Grill or at the Hard Rock café, Hollywood, CA? Is it meeting artists you were a fan of and are influence by when you were younger?
Terry Ilous: Most artists I know since 1989 are approachable such as Rudy Sarzo, all of us in Great White, Jeff Paris, Robin Mac Auley, member of RATT, and Don Dokken are willing to help when I need help. And most will help and those that won't God bless them and I won't mention their names.
Hardrock Haven: My last question is regarding the songs on Great White's set list. Are earlier songs from the 80's included? Like "Street Killer," "Stick It," "On Your Knees" and Led Zeppelin's "Immigrant Song" and "Rock and Roll?"
Terry Ilous: It's best that Jack sings those Zeppelin songs than I. I never studied Zeppelin like he did and dose a wonderful job doing them. As far early songs, yes we do for that generation and have not forgotten that generation and we have covered the catalog and hits. And we'll put in obscure songs the band likes and fan requests. We don't just focus on the hits and have to please the fans and for us can be boring. So we have to mix up. It's important to give the fans a good show or the best show you can. They pay the money to see the show. I take care of myself by exercising, running and martial arts and no drugs or alcohol to make us the band to be good as possible.
Hardrock Haven: It was good to talk to you again my friend. Thank for your time.
Terry Ilous: You're welcome.
For more information:
http://greatwhiterocks.com/
http://www.terryilous.com
http://monstersofrockcruise.com/
http://officialxyz.com/