Y&T Black Tiger 30th Anniversary Tour
by Craig Newman
Guest Writer —
April 20, 2012 at the Canyon Club, Agoura Hills, CA.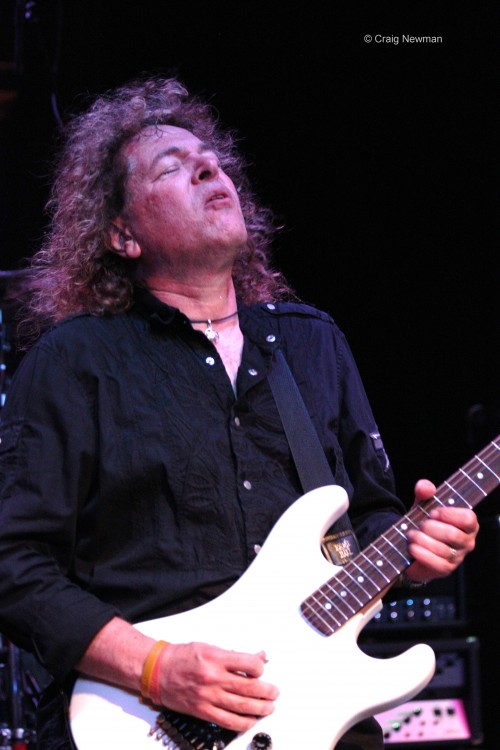 San Francisco area based hard rock band Y&T rocked Southern California Friday night at the Canyon Club. Dave Meniketti the founder Vocalist and guitarist told the crowd that Black Tiger was released 30 years ago and this the anniversary tour and played songs from that album including, "Hell or High Water," the ballad "I Believe in You" and "Black Tiger." Also other fans favorites such as the anthem opening song – "Open Fire," "Mean Streak," "Midnight in Tokyo" and "Summer Time Girls." Also the first new studio album in over 13 years, Face Melter was released during 2010 and Y&T played three songs from that including the first single and video, "I'm Coming Home."
The show was high energy from beginning to end of the show. The crowd from my generation and younger also were fist pumping singing to the classic songs. The current lineup is: John Nyman- Guitars, Mike Vanderhule- Drums, and Brad Lang- Bass. There was good interaction from the band with audience particularly in venue where both can interact and not separated by barriers as at an arena and stadium setting. Y&T have headlined and opened for other artist such as: DIO, Whitesnake, Motley Crue, Aerosmith, and many more. They blend energy, love ballads, blues and jazz sounds with hard rock 'n roll. This band has influenced musicians of great rock bands as well as up and coming rock bands for futuregenerations.
Look for Y&T on the MOR (Monsters of Rock) Cruise in 2013.