by Nikiforos Skoumas
Staff Writer —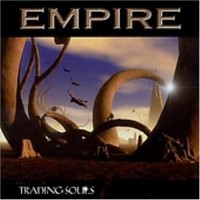 Those following closely the heavy metal scene would probably agree, there was somewhat of a minor resurgence of the guitar hero axiom in Europe during the late '90s with such talents as Magnus Karlsson, Jaron Sebstian Raven, Gus G and Rolf Munkes making their first appearance in the international scene.
At that point it was clear that parallel projects or bands were a must if a musician was to make a living within the music industry; the above guitarists were known for having two ore more bands running at any time. Rolf Munkes in particular was a member of the epic metal group Majesty, the power-melodic-metal project Razorback and the melodic hard rock outfit Empire.
After having completed his studies on the instrument, Munkes launched his international career as a guitarist, songwriter and producer. One can only assume that these were the qualities that drew a crowd of established musicians to participate in his musical endeavors. Whether you look at rock legends as Neil Murray, Don Airey, Doogie White and Mark Boals or metal heroes as Mike Terrana, Mark Boals, Lance King and Stephen Bergren they all went through the ranks of either Razorback or Empire.
Empire, in particular, was the first complete band and project that Munkes put forward and Trading Souls was the group's second album originally released in 2003. Now Lion Music is reissuing a re-mastered version of Trading Souls which is a very welcome offer considering that the market was literally drained of physical copies and proper stereo engineering was also overdue.
The line up on Trading Souls features iconic singer Tony Martin (Black Sabbath), bassist Neil Murray (Black Sabbath, Whitesnake), keyboardist Don Airey (Ozzy, Deep Purple), drummers Gerald Kloos and Anders Johansson and obviously Munkes on all guitars. The fact that even the most experienced fans of the genre are still having a hard time labeling this album, a complete decade past its original release speaks volumes of its quality. It is melodic hard rock? Is it adult oriented rock? Is it heavy metal? Is it Heavy Rock?
Well, we are definitely looking at an album-oriented and, most importantly, songwriting-oriented rock. From the opening guitar chord of "One in a million" you know this is far from your average rock-metal album, in fact, Trading Souls sounds like an artist totally in control of his writing and his instrument. He knows exactly where he wants to go with the album without resolving to any fillers. And on account of the incredible line up Rolf had the perfect vehicle to realize his vision, though perhaps not the best production backing. The overall album still has a very light sound to it particularly when it comes to the drums but it is definitely smoothed out in the mastering, making this re-issue a joy to play over and over. "Pay Back Time," "You," "Wherever You Go" and the encephalitic "Perfect Singularity" still sound as relevant as the did a decade ago. Clearly the second Empire album is one that stands the test of time, and counting a full decade since its original release we are definitely looking at a contemporary-classic.
Genre: Melodic Hard Rock, Heavy Rock, Metal
Line up:
Tony Martin (vocals)
Neil Marray (bass)
Rolf Munkes (guitar)
Gerald Kloos (drums)
Donald Airey (keyboards)
Anders Johansson (drums)
Track List:
One In A Million
Pay Back Time
Teenage Deadhead
Big World, Little Man
You
Perfect Singularity
Wherever You Go
Did You Ever Love Me
Comin Home
Back In The Light
Label: Lion Music
Hardrock Haven rating: 8.5/10