by Justin Gaines
– Senior Columnist —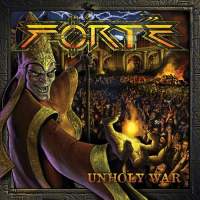 Are we in the middle of a revival of the classic "power/thrash" sound? In the last couple of years we've seen killer albums from bands like Helstar and Vicious Rumors, the return of Sanctuary after a decades-long absence, a whole new breed of bands taking up the sound, and now we have the resurrection of Forte, one of the best (yet most consistently overlooked) bands in the power/thrash realm. It's been more than a dozen years since the band's last album (1999's Rise Above), but you wouldn't know it from the sheer energy they display on Unholy War, their fifth full-length album.
When it's done right, the power/thrash sound can really capture the best elements of the two genres. You get the melody and classic heavy metal influence of power metal, but the melodramatic cheesiness is replaced by the speed, aggression and darker lyrical focus of thrash metal. With Unholy War, Forte is essentially conducting a master class in how power/thrash is done. Just about every aspect of this very powerful, very intense album is perfectly executed. Jeff Scott delivers some absolutely blistering guitar riffs here, balanced perfectly by a good sense of melody. On the rhythm side, "Rev" Jones and Greg Scott are a jaw-dropping combo, operating with the kind of complexity you'd usually find on a progressive metal album (not to mention intensity worthy of a death metal album). Vocally, David Thompson brings a gruff but powerful "screaming for vengeance" kind of energy that brings to mind former Iced Earth singer Matt Barlow. Actually, between Jeff Scott's riffs and Thompson's vocals you can't help but think this is what Iced Earth could sound like if they stopped trying to be epic and got back to their roots.
Unholy War is a remarkably strong album from start to finish, but there are a few songs that stand above the rest. "Absolute Power," "Stronger than Death" and "Rain of Fire" are just fantastic examples of Forte's core sound, and the title track and "Gears of Damnation" are the perfect songs to get heads banging and pits forming. Album closer "Light to the Blind" is an interesting way to wind things down. It's not bad at all, but is more of a traditional power metal song and doesn't have the same intensity the rest of Unholy War has.
It's awesome to have a band like Forte back on the scene, especially when they're still able to record an album of this caliber at this stage in their career. Unholy War is an incredible example of the power/thrash sound, and is sure to please fans of thrash, power and just high quality heavy metal in general.
Genre: Power Metal, Thrash Metal
Band:
Jeff Scott (g)
Ghames "Rev" Jones (b)
Greg Scott (d)
David Thompson (v)
Track Listing:
1. Vae Solis
2. Unholy War
3. Dead to Me
4. Take the Mark
5. Absolute Power
6. Undying
7. Stronger than Death
8. Rain of Fire
9. Gears of Damnation
10. Light to the Blind
Label: Tribunal
Website: www.myspace.com/fortemetal
Hardrock Haven rating: 8.75/10