Lita Ford | Living Like A Runaway
by Marcel "Mars" Groeneveld
– Columnist —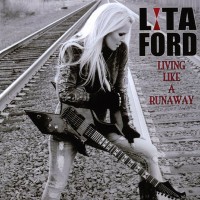 Lita Ford, a British born rocker who grew up on the streets of L.A., is considered one of the most important female representatives of the rock genre. As a founding member of the Runaways, Ford was part of one of the first girl groups who unexpectedly broke down barriers during the punk era as well as the male-dominated world of rock music.
Following the demise of the Runaways, Lita Ford concentrated on her own career and now looks back on many memorable hits including: the chart topping duet with Ozzy Osbourne "Close Your Eyes Forever," "What Do You Know About Love," "Shot Of Poison," "Larger Than Life," "Lisa" and "Kiss Me Deadly".
Unlike Lita Fords 2009 release, Wicked Wonderland, the release of Living Like A Runaway, takes Lita back to her roots. A lot of fans were very disappointed in the previous release which should have been called Lita and Jim and not have been released under Lita's banner. Anyway, thank God, or no thank Gary Hoey for stepping into Ford's life.
Gary Hoey (Heavy Bones, billboard top 5 hit with Focus cover, "Hocus Pocus" in '93) is a well-respected melodic guitarist, producer and songwriter. With him sharing the same passion for melodic rock, Ford is finally giving what the fans expect to get from her, and that is straight forward, catchy rock 'n roll with her own signature bite to it.
The downside sometimes about writing reviews is that labels will never send out the actual cd and in this case what we have here is the 10 song stduio release with none of the bonus songs. The limited digipack has two bonus tracks, one features the master mind of Doug Aldrich, whom has been put to the test writing the riffs and chorus melody on "Bad Neighborhood." The other bonus is an Elton John's cover of "The Bitch Is Back," also exclusive for i-Tunes the song "Boiling Point" is available.
Also there are no lyrics available with artwork and that is something Lita is actually extra proud of this time around, having spent a lot of extra time giving this album some extra meaning, making it more personal with lyricist Michael Dan Ehmig also on her team. Ford has worked hard to not just throw a few songs together and put them on an album but actually takes you on her journey and tells a story of a runaway living her life.
Having real personal issues turned into songs like the opener "Branded" which describes her marital bliss turned bad with fellow rocker Jim Gillette (Nitro). Musically it would have easily fit on Stiletto or Dangerous Curves, a real catchy rocker. While "Mother" is a real emotional song about a mother leaving her child while running away from a bad relationship.
"The Mask" speaks for itself, touching on how someone is another person underneath the mask they hold in front for others to see. It is a nice groovy song with a solid base and shows Lita's voice is as strong as ever. "Living Like A Runaway," a semi ballad, tells the story about Lita leaving the Runaways, standing on her own two feet and shows off her guitar talent as well. She once again put her mom, Lisa Ford into her lyrics like she did on Stiletto with the very cool song "Lisa," which was a tribute to her mother.
The very catchy "Relentless" is a song that hits your brain, like a freight train, very cool lyrics, a ballsy side of Lita with cool twin guitars and Gary Hoey acing the solo. Lita is showing who is boss, being a girl, playing guitar and rocking it despite what anyone thinks.
One would expecting to hear Ozzy voice after "Devil In My Head" kicks into gear, when you play a riff like that Ozzy must be close. Again Lita kicks total ass on guitar here and only makes me wonder where the hell has she been these last years. Very cool touch with acoustic guitars blended in, reminds me a bit to Heavy Bones.
Of course a ballad could not fail on this opus but again Lita proves why she is the true Metal Queen. Yes she had the looks in "the '80s" and still looks amazing but she can hold her own musically. Clearly with stronger vocals skills than ever before she attacks the darker lyrical "Asylum." Replacing the keyboard ending might have been a better option but that's a matter of taste, or money. Anyway Lita opens up and tells all!
"Love 2 Hate U" the first song written by Gary and Lita is actually a duet. Although no information was given by the label it seems you can hear Gary's voice. Again a semi ballad opening with acoustic guitar would have done great in the hay days when Rock of Ages ruled the world. Amazing guitar work, catchy chorus a potential hit for sure. The album is closed by Nikki Sixx song "A Song To Slit Your Wrists By" (58's, Nikki's side project band) although not a bad cover it stands out a little when stacked up against the original songs already heard.
One thing becomes clear, Lita Ford is back and she will win over the old fans she has lost and gain some new fans as her band, Poison and Def Leppard tour this summer. The Rock Of Ages Summer tour will certainly help her get the job done.
Genre: Melodic Hard Rock
Line up:
Lita Ford – vocals, guitar and keyboards
Gary Hoey – guitar, bass, keyboards and background vocals
Matt Scurfield – drums
Production:
Produced by Bobby Collin, Lita Ford and Gary Hoey
Standard jewel case version
1. Branded 3:46
2. Hate 3:54
3. The Mask 4:08
4. Living Like A Runaway 4:46
5. Relentless 3:47
6. Mother 2:54
7. Devil In My Head 5:21
8. Asylum 4:33
9. Love 2 Hate U 3:44
10. A Song To Slit Your Wrists By 3:54
Limited edition Digipak version
1. Branded 3:46
2. Hate 3:54
3. The Mask 4:08
4. Living Like A Runaway 4:46
5. Relentless 3:47
6. Mother 2:54
7. Devil In My Head 5:21
8. Asylum 4:33
9. Love 2 Hate U 3:44
10. A Song To Slit Your Wrists By 3:54
BONUS TRACKS:
11. Bad neighborhood 3:42
12. The Bitch Is Back 3:38
EXCLUSIVE iTunes Bonus Track
11. Boiling Point 4:09
Double gatefold LP version
LP SIDE 1:
1. Branded 3:46
2. Hate 3:54
3. The Mask 4:08
LP SIDE 2:
1. Relentless 3:47
2. Devil In My Head 5:21
3. Asylum 4:33
LP SIDE 3:
1. Living Like A Runaway 4:46
2. Mother 2:54
3. A Song To Slit Your Wrists By 3:54
LP SIDE 4:
1. Love 2 Hate You 3:44
BONUS TRACKS:
2. Bad Neighborhood 3:42
3. The Bitch Is Back 3:38
Record Label: SPV/Steamhammer
Hardrock Haven rating 9.5/10