by Chris A.
Staff Photojournalist —
July 2, 2012 at Riverbend Amphitheater in Cincinnati, Ohio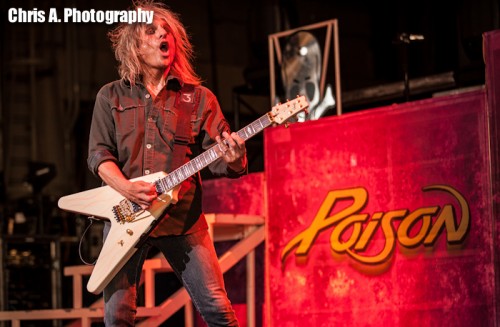 They are one of the most recognizable of the 80's "hair bands" and last night in Cincinnati, Bret and the boys delivered the goods. Opening the show with "Look What The Cat Dragged In" Poison bounced onto the stage as they rocked the house. Musically the band was tight and solid. CC DeVille was impressive and frenetic as he played his white Flying V style guitar and banged his long graying locks along with the tunes. Relaxed and appearing genuinely pleased to be playing, Bret Michaels was engaging with the crowd, telling them about his musical adventures and his recent hob-knobbing with country music stars.
With a ramp jutting from the stage, Michaels and Deville ventured forward, jamming and handing out high-fives to the folks fortunate enough to have seats close to the stage. The venue appeared to be packed with thousands and thousands of people
For 45 minutes Poison performed for the crowd. The set list for the show included: "Look What The Cat Dragged In," "Ride the Wind" a great cover of Grand Funks' "We're An American Band," "Your Mama Don't Dance," "Fallen Angel," "Unskinny Bop," "Every Rose Has It's Thorn," "Talk Dirty To Me" and finally, they closed their performance with "Nothin' But A Good Time."
Currently on the "Rock of Ages" tour with Def Leppard and Lita Ford, watch for Poison when they swing past your town. It's really is a good time! For more information on Poison visit www.poisonweb.com.
Poison Photo Gallery
no images were found