by Chris A.
Staff Photojournalist —
June 26, 2012 at Riverbend Amphitheater in Cincinnati, Ohio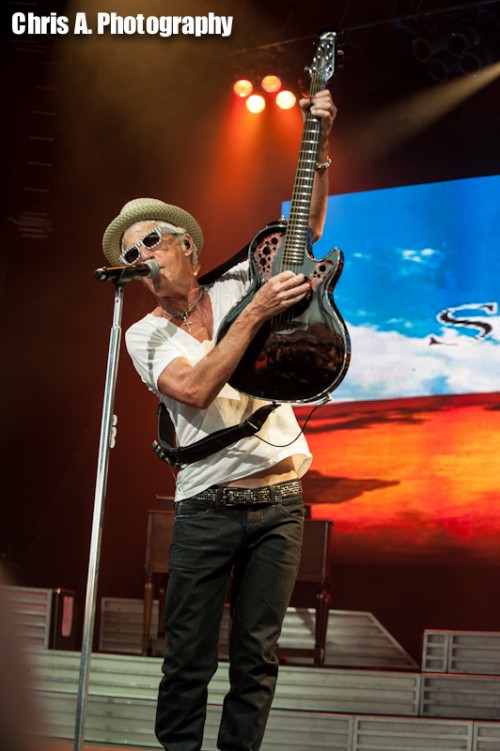 Rolling with the changes is something veteran rockers REO Speedwagon have been known for. A veritable "hit machine" in their heyday, their catalog of hits and familiar melodies is staggering. While a few faces have changed and the band's membership evolved for a period, the live performance certainly takes one back!
Sharing the bill with veteran 70's rockers Ted Nugent and Styx in one of the best classic rock concert lineups of the summer, REO Speedwagon had the golden center show spot, performing after Nugent and before Styx. With the Ohio temperatures creeping up to triple digit territory and as the beautiful sun began to drop in the horizon, the band took the stage.
REO's vocalist Kevin Cronin bounced across the stage looking hip sporting a pair of white sunglasses emblazoned with an evil skulls and crossbones motif as he belted out the hit "Don't Let Him Go." It was Cronin's kind of audience, a very "REO Speedwagon" friendly crowd packing Cincinnati's Riverbend Amphitheater on a steamy evening singing along with him. They were mostly middle-aged concert fans and like the bands, veteran concert goers, who have aged gracefully right along with the bands grew up jamming to and continue to appreciate and support.
While this REO may not have been the golden era lineup of the mid-70's, it was impossible to not notice how tight, musical, talented and authentic the current "REO-ers" are. Let's make it clear, the guys in today's REO Speedwagon have been together for almost 25 years. They are all great musicians and have been playing these songs together at a high level. The band is "authentic" in the sense that guitarist Dave Amato doesn't pretend to be Gary Richrath, He doesn't have to be. He's now been in the band longer than Gary was. Yet, he's a pro who remains faithful to the original presentation of Richrath-era REO songs. Make no mistake, Amato's no clone and he had big shoes to step into back in 1989 when Richrath parted ways with the band. Again, he's been in the band longer than Richrath, evidence that he's a smoking guitarist who fits incredibly well with this band. His playing was absolutely top-notch.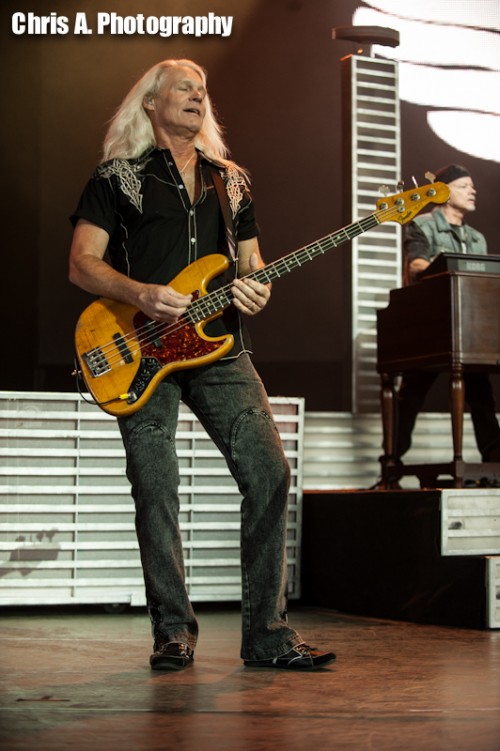 Keyboard player Neal Doughty endures as the sole founding member of the REO Speedwagon lineup and while there were a variety of vocalists, it's Kevin Cronin, whose voice is "the voice" behind the most memorable REO Speedwagon songs. 40 Years after he joined the band, he can still belt out the hits with enthusiasm and power. In addition, his signature tone and rhythm guitar chops have remained a constant for decades in the band. Along with Bryan Hitt on drums and Bruce Hall filling out the bottom end, musically, this band is intuitive, they perform incredibly well together and they project a genuinely vintage REO vibe.
With a set list of hits that clearly everyone in the amphitheater knew, thousands of voices sang along to the set list that included: "Take It On The Run," "Keep Pushing," "Golden Country," "Can't Fight This Feeling," "That Ain't Love, Like You Do," "Time For Me To Fly," "Back On The Road Again," "Roll With the Changes" and "Keep On Loving You." They closed out their show with "Ridin' The Storm Out."
REO Speedwagon certainly impressed the thousands in attendance and set the bar high for headliner Styx. For those considering going to see the band, do it. It's a band worth seeing, experiencing or reliving. If you've never seen them, go! You'll have a blast. If you caught them "back in the day" you're in for a great surprise as they are going to take you back and you'll find yourself singing along. It's great to watch a band but it's fun to know and sing along with nearly every song on the set list. To sum it up, the 2012 REO Speedwagon show is a fun, enthusiastic show from a really great rock n roll band.
For more information on REO Speedwagon visit www.speedwagon.com.
REO Speedwagon Photo Gallery
no images were found