LIVE! | Robert Plant Presents Sensational Space Shifters
by Alissa Ordabai
– Senior Columnist —
July 12, 2012 at HMV Forum, London, United Kingdom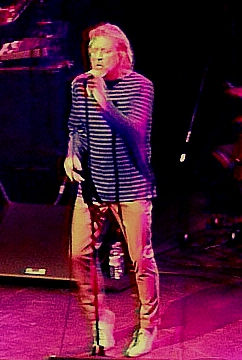 Tired of rock, but somewhat superficial in his flirtations with world music is how Robert Plant came through this evening. Add to this his urge to distance himself from the intensity and the drama of the legendary band which made him a rock god, and at the same time his inability to get away from those songs, and you'll get an idea of the limbo Plant finds himself in these days.
A possible way out would have been to explore more the ethnic music direction he has been leaning towards for years now, but tonight things didn't go any further outside of the non-Western paradigm than tranced chants, grooves and riffs, and having Juldeh Camara – a Gambian member of the band – play a few traditional instruments. As soon as the door into traditional Gambian music was beginning to open slightly wider than simply adding an exotic accent to rock, the proceedings would elegantly return to Plant's habitual comfort zone – back to familiar (albeit charming) rockabilly crooning, American folk numbers (tastefully performed by Patty Griffin) and songs from the Strange Sensation catalog.
And when time came for Led Zeppelin numbers, you could instantly sense Plant's reluctance to go back to the initial impulse which spawned them. This is how "Gallows Pole" or "Black Dog" were tonight turned into a New Age hodgepodge of rock, ambient, and world music entwined to support the complex pose Plant now assumes toward his past.
With the core of this new project comprised of musicians from Strange Sensation, the band provided a comfortable, safe framework for the star attraction. And so Plant sang with convincing flair, despite the complex equilibrium he was maintaining between different genres and different eras of his career. The shift of emphasis from real emotional punch – which Plant can still occasionally deliver – to nuanced understatement has more to do these days with the change in his inner realities, rather than the change in his vocal ability compared to his younger days. Where before he could kill with one sustained high-pitched note, now it's all about intonation – something he has been a master of practically since day one, but which today is his method of choice. It's just that now the songs he sings are sequences of sumptuous (and deliberately constructed) episodes rather than a spontaneous flow of inspiration. But with inner continuum as complex as Plant's, winging it on impulse is perhaps not an option anymore.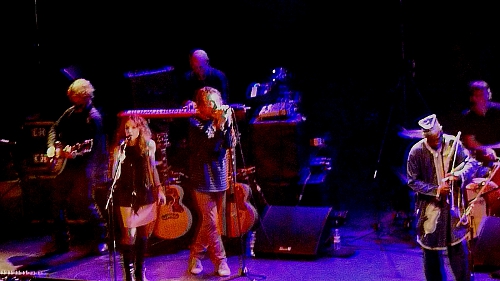 One thing this show has proved is that with an artist such as Robert Plant nothing can remain hidden. It was all laid bare – him having departed emotionally from hard rock, but still searching for a valid alternative. And just the way it's difficult to describe where he finds himself now artistically, it's equally difficult to put your finger on who Robert Plant's fans are these days. There were punters in Zeppelin shirts this evening who came to see the legendary singer of the iconic band. The vast majority in the crowd were over 45, and few looked like world music aficionados or even folk music fans. The most ecstatic reception was given to the Led Zeppelin numbers, so it's certainly this material which remains the biggest draw. Between the past and the present, between hard rock and world music, it's a peculiar in-between state Robert Plant is in these days – unable to forget, unwilling to resurrect, and reluctant to dedicate himself to a completely new genre.
Line-up:
Robert Plant – vocals, harmonica
Patty Griffin – vocals, guitar
Juldeh Camara of JuJu – ritti (one-stringed African violin), kologo (African banjo), talking drum, vocals.
Justin Adams of JuJu, Jah Wobble – guitar, bendir, vocals
John Baggott of Massive Attack, Portishead – keyboards
Liam "Skin" Tyson of Cast – guitar, vocals
Dave Smith of JuJu, Outhouse Ruhabi – drums and percussion
Billy Fuller of JuJu, Beak – bass guitar, vocals
Set List:
1. Funny in My Mind (I Believe I'm Fixin' to Die), a version of Bukka White's song "Fixin' to Die Blues"
2. Tin Pan Valley
3. 44 (Howlin' Wolf song)
4. Friends (Led Zeppelin song)
5. Spoonful (Howlin' Wolf song)
6. Bron-Y-Aur Stopm (Led Zeppelin song)
7. Ohio
8. No Bad News (Patty Griffin song)
9. Standing (Patty Griffin song)
10. Don't Let Me Die in Florida
11. Black Dog (Led Zeppelin song)
12. Somebody Knocking
13. I'm Your Witchdoctor (John Mayall and The Bluesbreakers song)
14. Waide Nayde (JuJu song)
15. Who Do You Love – Whole Lotta Love – Steal Away – Bury My Body
Encore:
1. Another Tribe
2. Gallows Pole (Led Zeppelin song)
Online: www.robertplant.com; realworldrecords.com/artist/3752/juju/; www.pattygriffin.com