by Chris A.
Staff Photojournalist –
June 26, 2012 at Riverbend Amphitheater in Cincinnati, Ohio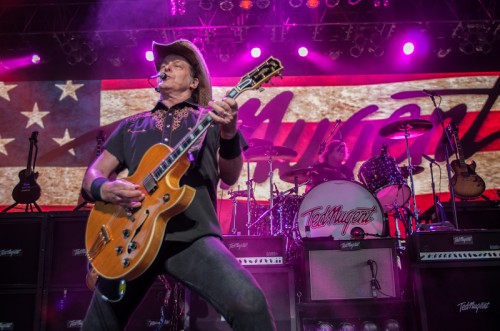 Its been over 40 years and well over 6000 concerts for Ted Nugent as he continues his aural assault on rock n roll audiences all over the world.
Currently on tour with classic rockers Styx and REO Speedwagon on the "Rock n Roll Express Tour," Nugent's stage setup has evolved since his last swing through the area, replacing a stage full of machine guns with a stage full of guitars.
Opening the show for the tour, Nugent broke into "Wango Tango" to setting a mood that was upbeat, silly, fun and not too darn serious. With only a 40 minute opening set list, Nugent didn't screw around and focused more playing the guitar than delivering political quips.
The full set included the following Nugent classics: "Just What the Doctor Ordered", "Free For All," "Stormtroopin," "Wang Dang Sweet Poontang," a smoking version of Jimi Hendrix's "Red House," "Hey Baby," "Cat Scratch Fever" and an epic rendition of his classic song "Stranglehold."
Paired up with his friend Derek St Holmes on vocals, Ted Nugent and his band continue to entertain and rock the masses. For more information on Ted Nugent and the "Rock n Roll Express Tour" visit www.tednugent.com.
Ted Nugent Photo Gallery