Lorraine Lewis of Femme Fatale
by Alexandra Mrozowska
– Columnist —
In the 1980s, in the world of rock 'n roll dominated inherently by guys, Femme Fatale was one of only a few female-fronted bands that came into the spotlight. Although the band, like many others hard rock acts of the '80s, has become swept away under the grunge wave in the early 1990s, its singer Lorraine Lewis – remembered for her voice as well as her appearance – is back on track and ready to rock on the upcoming Monsters of Rock Cruise! Those electric news are, however, only a part of what Lorraine is up to these days! In light of those recent news, this rock 'n roll lady spared Hardrock Haven a moment to talk about Femme Fatale, southern rock roots, gender issues in rock 'n roll… and a lot more!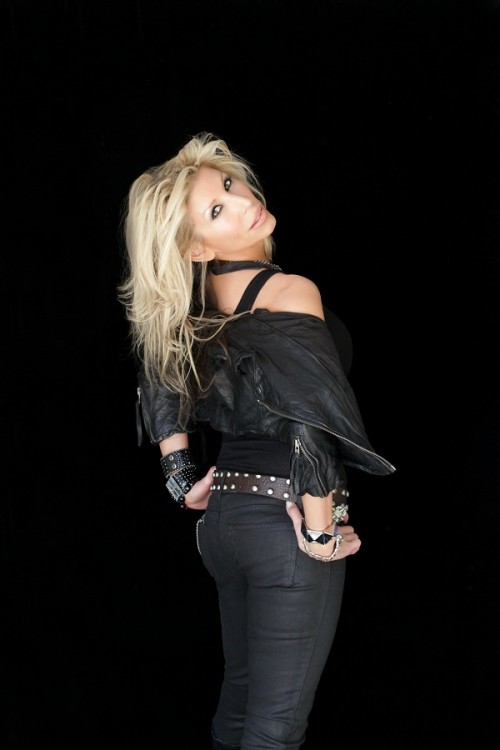 HARDROCK HAVEN: What are you up to at the moment and what is the current situation of your band Femme Fatale?
LORRAINE LEWIS: There is a lot going on as usual – I'm focused on music and television right now. In addition to Femme Fatale being added to the Monsters of Rock Cruise, I have a new line-up and will be announce my bandmates soon. Also, I co-created/co-produced a reality show called "The Ex-Wives of Rock" which airs on the Slice Network in Canada on August 27, 2012. Very excited!
HRH: Femme Fatale is actually remembered by the fans for the band's first self-titled record (1988). Looking back from a bit of perspective now, how do you judge this album? Are there any things you would have done differently if having to work on the album again?
LL: First of all it's hard to believe it's almost been 25 years! I still love the record, of course we could have done a lot of things differently, but some of the songs have really weathered the test of time. "Waiting For the Big One," "Fallin' In and Out of Love" and "Rebel" were the most standout tracks and they still are. Of course people who really know the record probably have their own favorites, like "Back in Your Arms Again" and "My Baby's Gun".
HRH: Shortly after the album was released, Femme Fatale began touring the world in support of Cheap Trick. Any memories from that tour? What was it like to tour with Robin Zander and the gang?
LL: That was a great time in my life. Lots of fans and great memories of hanging with Robin Zander. Cheap Trick was at the top of their game and it was like a dream being able to watch and listen and learn from him.
HRH: Since the band's early days, it was said you wanted to be the female version of David Lee Roth. Who else were you inspired by in terms of singing and performing?
LL: I was super into David Lee Roth when I saw Van Halen live for the first time. He was just so cool! But my roots really came from southern flavored rock, like Lynyrd Skynyrd & Crosby Stills Nash and Young… I know – walking contradiction here! (laughs)
HRH: Femme Fatale dissolved in 1990. What exactly caused the band's break-up? Was it more because of the drastic change of industry around that time, or some personal conflicts?
LL: The truth is the label didn't want the band any more, feelings got hurt, MCA wanted to keep me as a solo artist, and things just got weird. Looking back I could have stayed with the label, but they wanted to make me responsible for being in the red and my manager didn't want to do that. Of course there was a lot of inner turmoil… there usually is with bands, right?
HRH: What about the Femme Fatale's sophomore effort Lady in Waiting (1989). After many years of delay, in 2009 it was announced to be released via an Australian record label Suncity Records…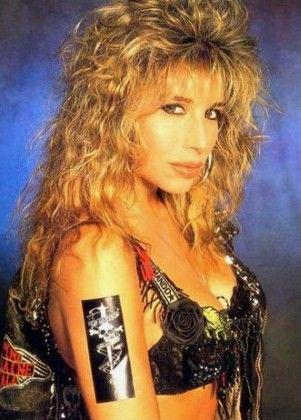 LL: It hasn't been released – Sun City was a joke of a label, took some tracks, didn't pay for them and who knows what happened with them. On the bright side, I've been talking with UMG which now owns the Femme Fatale record and we may be doing a re-issue with a few bonus tracks from Lady In Waiting, which would be great because there are some great tracks from that record!
HRH: Despite the fact you're known as one of the finest rock 'n roll female singers, your 2002 solo effort was much more country-oriented. Many 80's hard rock bands or artists went country during the last few years – what was the reason for that in your case?
LL: I think that a lot of metal rockers fled to Nashville – things were pretty dried up in L.A. for a while, so everyone went country (laughs) But I was always a little country way down deep, so I saw it as a natural expression. Short-lived but a blast! I still visit Nashville and love that town.
HRH: One of the songs off your solo album is "American Girl" – a track which in fact can be considered as semi-autobiographical . What meaning this song has to you and what are the other highlights of the album in your opinion?
LL: That is a great song for sure – just a track that I had fun with and kinda tells my story of coming to L.A. & wanting to be in Playboy magazine… fun to perform.
HRH: Another project you were actively participating in during the last decade was Snowball's 2000 release. Can you tell us a bit more about this?
LL: Yes I am slightly schizo so I did the Snowball record with some friends of mine in Seattle – lots of late hours and drinking in the studio. Those were some wild times. We recorded in the same studio that Pearl Jam recorded in and I swear that studio was full of ghosts. Loved my time in Seattle.
HRH: 2009 was the year of Roktopuss, a project you participated in along with Roxy Petrucci (Vixen, Madam X etc.) Any comment on that?
LL: Wow see, I am schizo (laughs) but sometimes things just present themselves and you run with them. Roxy and I had been friends for a long time and had always wanted to work together. We wrote some great tunes even though she was on the east coast and I was west. We recorded with Jeff Young and Michael Wagner produced 2 sides. Great stuff, but it was too difficult to make things happen since we lived so far away from each other. I love Roxy and can't wait to be on the Cruise with her and the rest of Vixen.
HRH: Next year, you formed an all-star band L.A. Nookie with Alex Kane on guitar (LSD, The Ramones), Lisa Leveridge (Courtney Love/Hole) on guitar, Share Pedersen (Vixen) on bass and Jeff Bowders (Paul Gilbert) on drums. In this line-up you already supported such acts as Ratt or Kix. Any future plans considering this band?
LL: I love the concept of this band! Super good shows and great musicians. I would like to do more with this, but now I have my TV hat on and Lisa just had a baby, Share is back where she should be which is with Roxy and Janet. So this is on the back burner for now.
HRH: Are there any other music projects you would like to introduce to our readers?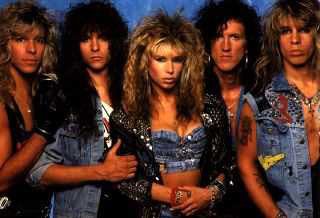 LL: Athena (Lee, a drummer and Tommy Lee's sister) and I and her son Miles wrote the theme song our show. It's really a cool tune called "Ex-Wives Rock" – hoping to put that out once the show comes out. But other than that it's all about Femme Fatale and the Cruise!
HRH: Both the music industry and music itself have changed much since the eighties. What is your take on those changes? Nowadays, do you find any new artist or band promising and appealing to your music taste?
LL: My musical taste is all over the place but my heart is in the '80s !! I still listen to Motley Crue, Poison, Van Halen. I like Nickelback, 20 Seconds to Mars, Adele, Halestorm. There are so many I like, it's just a different time. Nothing will ever be like the '80s.
HRH: Now, a bit of girl talk… Femme Fatale is often said to be remembered more for your image and onstage personality than the music itself… What was your attitude towards that? How did you manage to keep a balance between your striking sexuality onstage and a natural desire to be appreciated also as a talented singer and a songwriter, not only 'a pretty face'?
LL: The truth is I didn't really care if people got it or not. When you're on stage, at least when I'm on stage, something guttural takes over – and I just go for it. The real fans of Femme Fatale know I am a good singer, but the bottom line is that I'm not afraid to rock my ass off ! That's what I do best!
Hrh: Rock 'n roll is often said to be a guys' thing. Being one of the few ladies in the world of the 80's hard rock among Lita Ford, Joan Jett, Vixen, Fiona etc. were there any gender issues or indications of sexism you experienced personally?
LL: It was pretty tough back then trying to get attention in a music world that was dominated by guys. But there was Lita Ford just tearing it up on guitar and the girls from Vixen that could really hold their own. Obviously there is sexism everywhere, but I don't really care about it – I like being female.
HRH: Towards the end of the interview, maybe let's reveal some little secrets… After all those years, how do you keep yourself and your voice in such a great shape?
LL: When I know I have a show coming up I have to do vocal warm ups. So when I book something I start doing vocal warm-ups… at least 3 weeks out. If I don't do that, I will suck! And as far as keeping myself in good shape, well it gets tougher as I go… I run pretty much everyday and definitely do what I can to keep my skin looking good… otherwise I just drink some vodka and forget about it all (laughs)
HRH: Considering all the records you have released, which one you are the most proud of?
LL: Definitely, the Femme Fatale record. It has stood the test of time, and people still listen to it. I love that! And my voice was in really great form back then.
HRH: What are your future music plans? Anything connected with Femme Fatale or LA Nookie?
LL: It's all about the Monsters of Rock Cruise and some other one off dates in 2013. Check my website for more information www.lorrainecafe.com and on twitter at femmefatale69 or lcafemsn1.
HRH: Thank you for an interview! Any message to your fans and Hardrock Haven readers?
LL: Thank you all for your awesome messages and for stickin' with me all these years! My Femme Fans are the best! Also look for my TV show "Ex-Wives of Rock" on the Slice Network in Canada and fingers crossed it comes to the States. Oh, and you can also email me at Lorrainerocks@me.com . Keep rockin' and I love YOU!!