Love Stricken Demise | Psychotrip
by Joe Mis
– Columnist —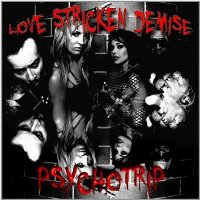 From out of Dallas comes the hard rocking quartet that calls itself Love Stricken Demise, and they've just released their first EP, a four track disc called Pyschotrip. Although the band may be unfamiliar, some of the members may not be, particularly if you are a fan of American Idol.
Founded in mid-2011 by guitarist (and actor) Billy Blair and drummer Rico, Love Stricken Demise went looking for a voice and quickly convinced American Idol finalist Nikki McKibbin to front the band. They soon added bassist / guitarist (and celebrity hairdresser) Holly Wood and the lineup was complete. After a few live gigs they hit the studio to record a single, "Celebrity High," and then their EP. Psychotrip was produced by Grammy award winner Sterling Winfield (Hellyeah, Damage Plan, Pantera), and the veteran's touch is obvious – allowing LSD to deliver a very polished and consistent sound.
The EP opens with the punchy glam rocker and title track "Psychotrip." This track gives McKibbin a chance to cut loose vocally while showcasing the solid rhythm skills of Rico and Wood and slick riffing from Blair. "Celebrity High" is a somewhat crude and gritty song that speaks to McKibbin's battles with personal issues and drugs, and a celebration of her successful rehab. This track is very drum-driven, but it features a great guitar solo by Blair. "This Life" is a pounding blues rocker with a great bass and drum groove. McKibbin's raspy voice is ideal for this track, but the song is a bit drawn out. "Love and Hate" is a more metal track with some solid vocals and great guitar work, and it closes out the EP on a high.
Overall Psychotrip is a decent debut. It allows Love Stricken Demise to present themselves in a variety of styles and moods while showcasing the overall talents of each member. No matter the mood, the music is intense and powerful – no top 40 / AOR material here. While not perfect, LSD has potential. A bit more seasoning as songwiters will only serve to highlight their raw talents. If the band manages to stay focused on their musical careers rather than the quirky jobs or situations outside of music they should be able to carry this momentum into their first full length release.
If you like gritty, ballsy hard rock, then LSD may be the band for you!
Genre: Hard Rock
Band:
Nikki McKibbin (vocals)
Billy Blair (guitars, backing vocals)
Holly Wood (bass, backing vocals)
Rico (drums)
Track Listing:
1. Psychotrip
2. Celebrity High
3. This Life
4. Love And Hate
Label: Down Boys Records
Website: http://www.reverbnation.com/lovestrickendemise
http://www.facebook.com/Lovestrickendemise
Hardrock Haven rating: 7/10