Marty Favento of Shock Rocket
by Alexandra Mrozowska
– Columnist —
There's nothing more edifying than a young band with old school roots and passion towards guitar music in the postmodern world of digital, techno and Generation Z. The spirit lives on, it seems! Out of the ashes of the 1980s hair metal, here comes Italy-based Shock Rocket, a bunch of young and promising musicians who know well how to combine their true hard rock roots with the opportunities and possibilities of the modern day era, including social networking and YouTube. Although busy with working hard to get a record deal and to make his dreams come true, the band's guitarist – Marty Favento – managed to tell us a bit about his band.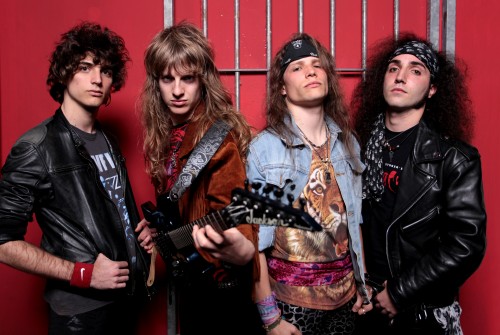 HARDROCK HAVEN: How did Shock Rocket's history start?
MARTY FAVENTO: Well, we formed this group short time ago. It was December 2011. When me and Andrew D decided to form a new, better more mature group than our ex-group Wild Ones. Marco Parlante joined us right away and after a quite long searching for the right guy we've found Joey Sixkiller. So here we are… Shock Rocket!
HRH: What is the idea behind the current band's name? The previous one 'Wild Ones' reminds me of 'John Bongiovi and the Wild Ones' which later turned into a well-known rock giants Bon Jovi – was it only coincidental?
MF: Well… believe me or not, they say that the most crazy and unusual ideas come out when you are doing something completely different. And it's true (laughs) A name Shock Rocket suddenly reached my brains when I was under the shower. I was like "Wow, this is something!" so I took a piece of paper and I wrote it to remember it; when we had first band meeting, everybody agreed with this name. Well, our ex-band called Wild Ones was formed by our ex-bass player who took all the rights to decide what name it will be… I remember after first Wild Ones rehearsal (or should I say: my audition) he sent me a message "you played great, welcome to Wild Ones!" (laughs) so that was it… And yes, it was pretty much obvious that was inspired by Bon Jovi, because he was a huge Bon Jovi fan, although he never admit it that he took it from Bon Jovi.
HRH: A bit of interesting trivia is that the American virtuoso Michael Angelo Batio somewhat "blessed" a band with his appreciation of your music. Can you tell us more about it?
MF: Me and Michael are friends for about 2 years. I gave him Wild Ones' Rock Revolution EP when I've met him for the first time and he actually replied to me in a month that he really liked it. Next year I met him again and we played together; it was really fun… awesome! Some of my dreams came true. He's a great guy, very talented and helps me a lot with my career giving me advice and right directions of what to do and not to do. Very inspiring person.
HRH: You've toured with such groups as Crazy Lixx and Tuff…
MF: I prefer Tuff. Stevie Rachelle and I are in very good relationship and we are always happy to have a gig together. Tuff is somehow a legendary Sunset Strip band and I like to hang out with those guys who know a lot bout the '80s music scene and can tell some stories what happened back then. Crazy Lixx are cool, I think they sound great and have cool songs, but anyway I would pick Tuff… I really love What Comes Around, Goes Around album, I think is a classic hair metal album and I always like to hear those songs live.
HRH: Rumor has it that you already have lots of songs ready to be recorded. What can we expect after this material?
MF: We've just recorded Lift Off Demo CD which has 10 songs. It will be released in a month or so, and I'm constantly writing new material – I got a lot of tunes ready to be rehearsed with the band. Right now we have 4 new songs that are not recorded yet – they kick ass! And well… it's hard to say what can you expect… I think everybody got their own expectations… I think we are heading towards songs with a lot of crazy guitar hooks, catchy lyrics and melodies and lots of groove and power..I think that's what Shock Rocket is.
HRH: Are there any particular producers who are you interested in working with?
MF: Yes, Beau Hill – who produced bands like Ratt, Alice Cooper, Winger, Europe, Gary Moore, Twisted Sister… just to name few of them! He's interested in producing our future album. I think we could really do a great job together. I trust Beau, he never disappointed me with his production.
HRH: From what I've heard about you, there are many hard rock listeners who find a lot of Dokken influences in your demo material. Do you agree with it? Which other influences would you pick as crucial to the band's sound and image?
MF: Well, probably… I'm a Dokken fan, not a huge fan, but I always loved George Lynch's riffs, and that tight rhythm that Dokken has… We are mostly inspired by bands like Extreme, Ratt, Mr. Big, Van Halen, Winger, Firehouse etc.
HRH: Talking about image… how important is the visual aspect of the band to you? To what extent do you as band members follow the certain rocker/metalhead style and do you treat it as only an addition to the music, or maybe an equally important element?
MF: Image is a very important. I think that the way you sound is closely connected to the way you look. It would be funny to see a guy with short hair and regular clothes, who's playing '80s riffs – somehow those things don't fit together. We dress in the '80s hair metal style with some elements of other styles and periods to look more fresh and more unique – not as just another hair band. Although I believe that music comes first and the image is second, unfortunately most people pay more attention to "cool clothes" rather than "cool playing". Yes, that sucks, but… hey, it's 2012, not 1981 unfortunately!
HRH: Let's talk about visual aspects of rock 'n roll yet a bit more. Shock Rocket is mostly inspired by the 80's era – the days when visuals meant everything and when, (in)famously, "video killed the radio star." Those were the days of huge pyro explosions, lighting shows and surprisingly diverse and custom designed stage gear such as mechanical drum risers, for example. What is your take on that? Would Shock Rocket follow the pattern and breath fire and spit blood if they could, in vein of the good ol' KISS, if only for the show?
MF: Yes, I think that's awesome! Nothing better than to have custom set stages with custom designed equipment, effects, pyro stuff… it's all awesome. I'm a big fan of "theatrical part" of the show… somehow it makes it more interesting, it's like going to see an adventure or horror movie (laughs) I think we're also gonna do some of that in the future, for sure… but definitely we're not to emulate or imitate some of the giants like KISS! I think in order to become recognized you must do something different. We will never wear make-up like KISS, 'cause we are not KISS – as simple as that! In the future we'll establish an "artistic team" behind us who will find perfect ideas for our stage shows. After all, the whole idea behind the music is also to make a good show: we are a live band, not just studio freaks, we belong to the stage!
HRH: Now let's talk a bit about what rock 'n roll is about – playing live, headbanging and picking up the groupies! What's the atmosphere on Shock Rocket gigs?
MF: We're a band with the positive message and happy "vibe". Most of our fans are girls – they're getting really wild at our gigs, jumping, screaming and stuff. It's awesome to see that. Well, what matters to us is that we never see a person walking sad or angry from our show – our goal is to make people happy; our gig is a huge party and everybody is invited. And well, let's spare the details concerning the groupies… I will just say: "They're awesome!" (laughs).
HRH: What is your opinion about the current situation of the music industry? What are the chances of promotion for debuting old school rock/metal bands?
MF: Music industry has always had one simple rule: "selling big", just like any other industry in the world… They don't care if you are glam, grunge, heavy, thrash, whatever… as long that can make some money out of it, that's fine for them. Good thing is that I somehow see that in future hard rock/heavy metal bands will become the big part of music industry again… people are getting back to basics to listen to 60's,70's, 80's and 90's rock and there will always be bands who'll sell that. I can see that with Shock Rocket – people love us 'cause we do the "old thing' in a new 2012 way… we don't sing stupid songs like Justin Bieber and that's why we will always have loyal and supportive fans. For promotion, the Internet is a tool number one… putting songs, pictures, videos online is an effective and free way to promote ourselves.
HRH: Which other young groups from your genre you find promising or interesting?
MF: I don't know really… I think that Nasty Habit is a cool band – they're from USA, young guys with right looks playing right hair metal. Of course, there are also some other acts I don't remember names of right now..
HRH: Since Shock Rocket remains an unsigned band yet… having to choose between independent record label which gives an artist a chance to freely express themselves, or one of the major labels such as Sony or Universal which has a crucial influence upon the artist but gives them enough opportunity to develop their career, what would you prefer?
MF: Signing with major, of course! I think there is a always a solution to do something that you want to do and what they want you do to… it's not that bad… I mean, if they sign hair band… they haven't just signed them just to force them to cut their hair! (laughs) In that case, they would choose somebody else! (laughs) I have very "commercial business" mind, so I always make songs that are catchy, sing-along, easy to be noticed and remembered..
HRH: Facebook, MySpace, YouTube – nowadays, these are the tools for the unsigned bands to come into the spotlight and spread the word about themselves all over the world. How would you judge their role and influence upon your band's progressing career?
MF: Agree! These are the pages where everybody can see or listen to you. Without that, a new band has no potential or future… You can be the best band ever, but if nobody knows you, you're done… We have Facebook page with 7000+ fans and YouTube account that has over 34,000 song plays right now… pretty cool.
HRH: Now let's allow our imagination run wild! Imagine Shock Rocket in ten years from now…
MF: In Los Angeles rehab center… resting and putting all the pieces back together after a Third World tour (laughs).
HRH: What are the band's current plans?
MF: We've just filmed our debut music video… so the plan is to release that, to release our demo CD… and in future, to move to Los Angeles and get a record deal, and everything that comes along with that!
HRH: Any last word for the Hardrock Haven readers? Maybe a bit of encouragement to check out the band's material available on YouTube?
MF: Thank you everybody for reading this! Shock Rocket loves you! Thank you for your amazing support. Yes, check out our tunes on YouTube… in September our debut music video will be also uploaded! Stay tuned, rock on!