Primal Rock Rebellion | Awoken Broken
by Steve Patrick
Staff Writer —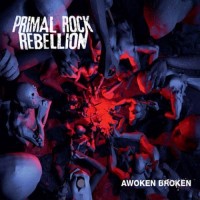 The primary benefit of an album like Primal Rock Rebellion's Awoken Broken is that it allows an artist that currently performs in a timeless band, in this case Iron Maiden's Adrian Smith, to make music that is sonically quite different without alienating their core fan base. On this solo project, Smith partnered up with former SikTh front-man Mikee Goodman to handle co-writing and vocal duties. The result is an unusual album that never fully gels as a project.
Awoken Broken could have been very popular had it been released in the late 90s or early 2000s. Goodman's vocal approach is in the same vein as Korn's Jonathan Davis so the majority of the tracks on this album sound like nu metal outtakes with a much better guitarist playing on them.
The opening track on the album, "No Friendly Neighbour" is a decent enough opener with a guitar solo that sounds more like it's performed by U2's The Edge than Smith. Ridiculously childish lyrics like "the butcher and the baker and the mixer and the maker" are pretty distracting and make it pretty difficult to get into the music. Goodman's spastic way of hitting high notes in songs like "No Place Like Home" and "Savage World" just comes off as goofy.
On the band's website, Goodman is described as a "spoken world maestro" which would be all well and good if this were a poetry album, but Awoken Broken could have benefited from the presence of a singing maestro instead. It's a bit of a challenge to hear the Adrian Smith who wrote songs like "The Prisoner" or "22 Acacia Avenue." Smith's playing on Awoken Broken is still top notch, but it sounds like he was looking to do the kind of experimentation that would be difficult to do under the Iron Maiden banner. Think of it as Adrian Smith's own personal Lulu.
Granted, this is not exactly a glowing endorsement, but there are some redeeming factors present on Awoken Broken. Smith sounds energized and excited about playing this material, but it's not exactly indicative of the level of quality that Smith's "day job" band usually creates. Goodman's disjointed vocal approach on this album stands in the way of a truly cohesive sound. However, anyone with an open mind will find some bright spots on Awoken Broken to enjoy.
Genre: Metal, Nu Metal
Band:
Adrian Smith – guitar, bass guitar, vocals
Mikee Goodman – lead vocals
Dan Foord – drums
Track Listing:
1. "No Friendly Neighbour"
2. "No Place Like Home"
3. "I See Lights"
4. "Bright as a Fire"
5. "Savage World"
6. "Tortured Tone"
7. "White Sheet Robes"
8. "As Tears Come Falling from the Sky"
9. "Awoken Broken"
10. "Search for Bliss"
11. "Snake Ladders"
12. "Mirror and the Moon"
Label: Spinefarm Records
Hardrock Haven rating: 7/10