Rudy Sarzo of Animetal USA
by Deb Rao
– Senior Editor —
Already a gold certified sensation in Japan, new super group Animal USA comprised of singer Mike Vescera (OBSESSION/ex-LOUDNESS) starring as METAL-RIDER, bassist Rudy Sarzo (ex-OZZY OSBOURNE, QUIET RIOT, WHITESNAKE, DIO) as STORMBRINGER, guitarist Chris Impellitteri (IMPELLITTERI) as SPEED KING, and drummer Jon Dette (ex, Testament, Slayer)as TANK. Animetal USA recently made their U.S. debut and performed on June 29th at the Anime Expo attended by 75,000 people at the Los Angeles Convention Center. In this Exclusive interview for Hardrock Haven critically acclaimed bass player Rudy Sarzo discusses the launching of Animetal USA.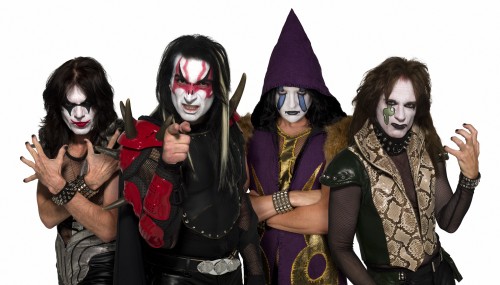 HRH: How did Animetal USA come into fruition?
Rudy: Our singer Mike Vescera lived in Japan for three years working with a band called Loudness. During that time period he became a fan of anime. Are you familiar with anime?
HRH: Not too much.
Rudy: Anime is a Japanese animation art form. From what makes it different from our own traditional animation art form is that anime can be about different subjects. It can be about social commentary, science fiction, and ecology. It is almost like their version of CNN. They share stories and philosophies through animation. If you are a fan of anime, you are a fan of anime from the cradle to the grave. From childhood to adulthood, it is part of your life. There is also a graphic novel version of that called manga. Mike became a fan of anime, and that is how Animetal was formed. As you now, I am an animator. So when he got together with Sony Music, which is our label in Japan to talk about resurrecting the concept of another band that was called Animetal and doing this as an American version. This new version, Animetal USA, would be more of a global appeal by having members that were known worldwide in the band. We have Mike Vescera, myself, and Chris Impellitteri. On the first album it was Scott Travis of Judas Priest. Currently our drummer is Jon Dette, he previously played with Testament and Slayer. Though we have 2 CDs out in Japan through SONY Music, a compilation of both albums is now available worldwide through Century Media. The CD is titled, Animetal USA: Special Edition. You can also go to itunes and download it or order the CD and related merchandise through Century Media.
HRH: How did your U.S. debut go in Los Angeles on June 29th at the Los Angeles Convention Center at the Anime Expo?
Rudy: Awesome!!! This was the first time we got to play outside of Japan. Our first performance was in Japan at Loud Park in October. Which is the big metal festival in Japan. About three weeks ago, we were touring in Japan with another anime centric band. We did some shows in Tokyo and Osaka. There were about 75,000 people in attendance at Anime Expo. It was incredible to see all walks of life, all cultures and ethnic backgrounds, all ages there celebrating anime. Which to me the total freedom of expression of your imagination. It is incredible how people gravitate towards certain characters of their favorite anime series or manga.
HRH: You are the Stormbringer character in Animetal USA correct?
Rudy: Yes. We are characters. We are Super Heroes in the group. There is an animated series in the works right now based of our characters and the band.
HRH: What can the fans expect to see when they attend Animetal USA in concert? It must be very exciting and visual.
Rudy. It is very exciting. It is very high tech. There are a lot of visuals. It is a visual experience. We perform speed metal versions of popular anime theme songs. In addition, on the second album there is a track of the theme song that we recorded for a spinoff of the most popular anime in Japan today, Naruto. The spinoff is called Rock Lee. We are the band playing on the theme song. In concert as on the CD Animetal USA is the equivalent of going on the thrill rides at an amusement park. From song to song it's a never ending roller coaster.
HRH: Tell about the recording process for the new album?
Rudy: Outside of Rock Lee, which is an original song, all the other songs are very famous iconic anime theme songs. It is more about interpretation, arrangement, and the added elements that we bring to the music in order to make it sound like Animetal USA.
HRH: What your future touring plans?
Rudy: Yes, right now there is a tour in the works. Actually, they are putting together a world tour. We will be making that announcement when everything becomes solid.
HRH: What do you hope to accomplish with your new project Animetal USA? What goal have you set for the band?
Rudy: That is a very interesting question. For example, you have to take into consideration that the first intention of doing Animetal USA was to embrace Japanese culture. We have all toured Japan with our own individual bands. Myself, I have been touring Japan for the last 30 years with Ozzy, Whitesnake, Quiet Riot, and DIO and so on. This is an opportunity to thank the Japanese fans for embracing us and supporting all the bands that we have been in. In Japan both the first and second albums have gone to Number one a Gold, which is very rare nowadays. But just as significant the anime community has embraced us. Not only the graphic artists and publishers, but also the music makers. The people that compose the music and the performers of anime theme songs. Going through this process, we have become the Ambassadors of anime and Japanese culture to the rest of the world by exposing Anime to metal fans. We hope to share with them what an incredible art form Anime really is. It has so much in common with metal music. Metal is about freedom of expression and so is anime. Anime is about freedom of your imagination. There is no limitation and no boundaries within the anime world. You can be who you want to be and whatever you want to be. You have your own identity. No one is going to tell you this is who or what you must be. It is about freedom which is what metal is all about. There are so many similarities.
HRH: This is so exciting. The Japanese fans have been a huge role to metal community. They are so enthusiastic about metal. They are really loyal too.
Rudy: They have kept our bands alive. They have kept our music alive. When there was no place for us to tour or make records, Japan was always there supporting the metal community. This is our way of saying Thank you.
HRH: Thank you so much Rudy for taking your time to discuss your new project Animetal USA. We wish you the Best of Luck and hope you to see you perform in Las Vegas really soon!
On the web: http://www.animetalusa.com/