by John Kindred
– Publisher —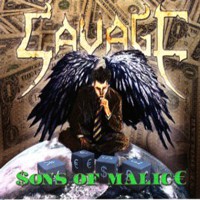 Hailing from Mansfield, England and formed in the late '70s, Savage is one of Britain's NWOBHM bands that pioneered the way for such lofty giants such as Metallica. Their initial trek into the world of music produced the song titled "Let it Loose," and led to the first studio release titled Loose 'N Lethal in '83. Their 30-plus year career has produced six albums. Starting with 83's Loose 'N Lethal and continuing on with '85 Hyperactive; 95's Holy Wars; '96 Babylon; 01's Xtreme Machine and finally '12s Sons of Malice.
Original founders Chris Bradley and Andy Dawson return for another go at it, delivering a 13-song studio album that falls into the heavy rock realm. The album, Sons of Malice, features drummer Mark Nelson and new guitarist Kristian Bradley and was produced by the band.
2012 is such a long way away from 1983, so die-hard fans of the Loose 'N Lethal are going to be disappointed if they expect Sons of Malice to be the second coming of Lethal. Malice is heavy but solidifies itself in the genre of heavy-blues-hard-rock. This doesn't mean the guitars don't rip, roar and tear it up; it just isn't Maiden like. You can't live in the past, so why try. So what the band loses from the lack of speed is made up delivering catchy, head-bobbing-grooves.
Chris Bradley's vocals are reminiscent of another famous Brit, John Sykes, who both have a similar delivery and tonality. The songs are melodic, sometimes brooding with a slower groove (never so slow as to lull you to sleep!), but most of the time, the pace is more brisk and energetic. The tempos allow the guitars the room to be more expressive and allow the emphasis for the rhythmic machine to find the groove and lock in.
Highlights of the album include the title track "Sons of Malice," "Waking the Dead," "The Hanging Tree" (has a cool bluesy-intro), upbeat "Choose Revolution" and "False Idols." The whole CD features heavy blues-driven riffs and stellar solos that, at times, make use of the WAH pedal and blend the twin attack into harmony runs. Oh yeah, let's not forget the heavy groove provided by Nelon's drums and Bradley's bass.
Genre: Hard Rock, Heavy Metal
Band:
Chris Bradley – Vocals/Bass Guitars
Andy Dawson – Guitars
Mark Nelson – Drums
Kristian Bradley – Guitar
Track Listing:
01. The Rage Within
02. Black N Blue
03. Sons Of Malice
04. The Hanging Tree
05. Monkey On My Back
06. Junkyard Dogs
07. Blow
08. Waking The Dead
09. Choose Revolution
10. Now
11. Look At Yourself
12. Master Of War
13. Fallen Idols
Label: Minus 2 Zebra
Web: http://www.reverbnation.com/savagemusicuk
Hardrock Haven rating: 8/10