by Marija Brettle
– Columnist —
Alan Williamson is not just another typical instrumentalist, talented musician; he is sensational multi-instrumentalist, one of those musicians who devoted his life and career to music. His road to become an instrumental phenomenon was first inspired by his father's love for the musical group The Shadows. Since then forward, Alan has furthered his playing ability and musical knowledge while being influenced by some of yesterday and today's great rock musicians. Williamson's goal is to incorporate thematic overtones that will draw the listener into the musical landscape of each new song with full length guitar journey. Alan has been playing, performing and recording as a musician for over 20 years. His music is best described as symphonic/progressive instrumental rock; which combines a multitude of elements that pulls from various styles of modern and classical music.
Williamson's latest studio project, Impressions, is an extension of his main musical effort, mainly focused on fusion based hard rock instrumentals, featuring the guitar as the lead instrument. He is currently in the process of releasing his new project, titled Dark Matter. Hardrock Haven managed to catch up with Alan Williamson, discussing his latest studio effort, the first guitar he picked up, his major music influences, about his work with his band Krank It Up, and a whole lot more…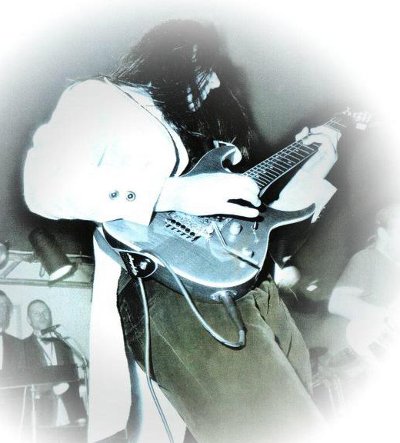 Hardrock Haven: Hi Alan! Thanks for making time out for this interview?
Alan Williamson: Hi! It's my pleasure!
HRH: You've just released your new CD, Impressions. Can you tell us more about the recording process and some more details on what you were trying to capture with your playing on this album?
Alan: The album Impressions was a collection of compositional work I had recorded over the years and doesn't really feature much guitar work. I'd basically had all this material sitting around on my hard drive and I guess it was better put together as a cohort. The recording process was hours and hours at a keyboard and computer and scoring material, recording it and mixing it. My recording process starts with a concept, the big picture, in other words the finished product. I work on my own, writing, composing, arranging, engineering and mastering! Everything is built from the ground up creating a solid foundation for all works and pieces to sit on.
I like to juxtaposition various ideas and connect them together kind of like a musical jigsaw thus giving a finished work as the send result. A lot of this work was recorded on keyboard as I tend to get a different feel and emotional expression as opposed to writing on a guitar.
HRH: I just listened to one of the new songs and I must say "Impressions" stuck with me, great opening… an amazing sound that would fit well into the film soundtrack. Do you have any favorite song so far and why?
Alan: My favorite song on the album has to be the opening track "Kingdom." This is a huge monster piece that would be suited in a Hollywood movie and it has an emotional, uplifting and celestial feel to the track. I guess all the tracks have some kind of meaning to me as I wrote them, sometimes music just oozes out of me and then I'm done. I go through days, weeks or even months where nothing happens. It's a strange experience when I write as I'm nearly always at my lowest point, a sinking feeling in my body, a tension and nervousness. I actually thought at one time it was an illness, but it only ever happens when something is about to develop from me. (Laughs). For me music has to provide three things; "something for the body, something for the mind and something for the soul."
HRH: Back in 2005, following the release of Across Angry Skies you received many praises from your fans and critics, calling this album, 'One of the most outstanding albums a single musician has achieved.' What kind of response you are getting so far with you new record?
Alan: The response seems to be positive as you have to remember this is slightly different to what I normally do. But I write what I feel at the time, if I want to write a trance song, a rock song, a country song or a prog metal song, I will. I am free of genre and that's what I like. You'd soon get sick of eating the same food every day and listening to the same music is no different, you'd get bored!
I never really see any of my work as been outstanding as this is what I do and I guess "I do what I do… because that is what I do!" It's simple.(Laughs). I never set out to be anything special but rather to write music that appeal to me and my life. After all, I'm going to be doing this for a very long time so I have to be involved with my being and my work. I need to enjoy what I do. I think in return people connect to this and see certain humbleness about it. A musician that is free of ego has no boundaries; I only try to impress myself… not others.
HRH: So what is your writing process… what equipment do you use?
Alan: Working in my own studio allows me to have 24hour round the clock flexibility and I'd be lost without certain tools. I mainly use a Roland VS2480 connected to a high process audio PC running Cubase 5 and a host of plugins. Just about everything I do is recorded into the PC for mixing and editing. Guitars are mainly Parker guitars but to get other timbres and tones I'll use other guitars.
HRH: Is there any particular meaning of the album title for you?
Alan: I have to have a concept for everything I do. I believe if there is no direction then one can't move forward. You have to know where you are going to reach a destination! I always have had an acute fascination with science and the energies around us that binds us together as human or animal. I visualize my music as been an energy as well, as it will relate to people who can relate to it and in doing so… you have made a connection!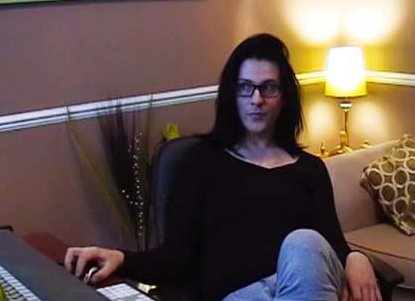 HRH: What are your songs about?
Alan: Everything! Composing instrumental music allows the listener to create their own musical landscapes in their minds. Connecting lyrics to music tends to bind the two together and creates a universal subject that tends to reflect on the lyrical content, therefore the music becomes secondary!
HRH: You started playing guitar at the very early age of 10, were you from a musical background?
Alan: No, none in my family was musical or musically minded. But I was introduced to it via my father. He would listen to the Shadows and Chet Atkins, which is probably why I prefer instrumental music as both these fore mentioned acts were predominantly instrumental.
HRH: Tell me more about you're beginning… what was the first guitar you picked up?
Alan: My first guitar was given to me. It was a homemade acoustic guitar that was without doubt one of the hardest and most uncomfortable instruments to play. (Laughs). I had to position my fingers into position with my other hand and quickly strum the strings to get any kind of sound. Then I got my first electric guitar. It was a Yamaha SE203 in cherry red with a black scratch plate and I guess it was downhill from there on. (Laughs)
HRH: You've been playing guitar for over 20 years now. How did you advance your musical playing? Did you have a guitar tutor or are you self-taught?
Alan: I don't believe anyone is self-taught as there are too many outlets to help you should you be willing to look i.e. friends, books, videos, magazines, your imagination, etc… I never really took lessons as it was a lifestyle for me as opposed to a hobby. I spent every moment on the instrument I could, constantly developing skills and awareness.
HRH: What do you think is the greatest strength as a musician?
Alan: Get rid of your weaknesses and you'll always be strong!
HRH: Every good guitar player has their signature in their playing. Whether it's a lick, a tone or technique. What's yours?
Alan: I don't know (Laughs). I guess that's for people to tell me.
HRH: What was the point when you emerged as a guitarist with your own inner identity… with your own distinctive Williamson style?
Alan: Probably when I was a kid. I guess you always have your own style it just takes a while to develop it.
HRH: What were the main things that you worked on over the years that you feel really helped you break through in developing your own skills?
Alan: Learning about myself, and working on my strengths as opposed to my weaknesses. I figured, if I'm good at something then I can always be better!
HRH: You often have been called an instrumental phenomenon, musical genius, who truly brings a unique guitar sound. British hidden gem! What does it take to become a great guitarist in your experience?
Alan: Personally, I'm none of the above. It's strange how people describe you and I just do what I do! I'm nothing special but if I give inspiration to people then it's an honor that I have affected them in this way.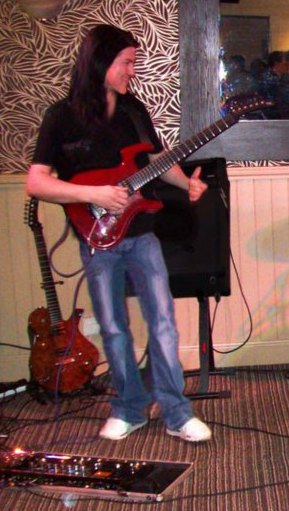 HRH: How did you learn the recording techniques… I know you have your own studio?
Alan: I studied. I've been recording now for 20 years and have made it parallel with my writing and composing. I guess I'm just patient and love learning new things and techniques. I'm a big believer of the adage… "what you don't know is probably worth knowing!"
HRH: Are you the sort of guitar player who likes the new computer based tools for recording or do you prefer recording live in a studio?
Alan: No, I love technology and learning about it. It's made my live so much more convenient and inexpensive. I'm not a gear freak. I can't be bothered with all of that. In fact, once my music stops in the day I never talk about it. It's laid to rest till I want it again.
HRH: Why do you choose Parker as you main guitar?
Alan: I guess we chose each other! (Laughs).
HRH: How you got into this guitar and what you like about this guitar?
Alan: It works for me, it's now become iconic to me as people associate the Parker fly to me and it offers me a wide variety of tone and playability as opposed to having to use a number of guitars to get one job done. I need simplicity in my life as I have little time to choose.
HRH: What do you feel is the best approach to developing your high level of guitar chops?
Alan: Practice! The purpose of practice is so you never have to play the same thing from scratch again. And be educated; don't just expect things to come to you. "The purpose of education is to fill an empty mind with an open one"… (Laughs).
HRH: In your opinion what is the most important thing that defines your guitar sound?
Alan: (Laughs) Me! No one else in the world is going to play my music exactly the way I do as it's my own personality and expression. The rest are mere vehicles that act as good tools to my work done.
HRH: I read somewhere you saying that you are not influenced by other guitarists. So who were your major music influences and what did they add to your playing and writing style?
Alan: Musical influences are a lot different to instrument specific influences and I would have to say that I've always striven for an intellectual basis in my compositional style. I have to get influence from other things and it's not always music. I love baroque, renaissance and medieval music I'm also heavily influenced by film score and big production music I listen to a lot of Jazz, fusion and ethnic music and have an outside interest in science, history and art. I then bring all of this to the table and devour it!
HRH: Can you pick some of the guitar players and key albums that you would recommend to many aspiring musicians and guitar players to listen too?
Alan: There are so many and I guess it's all down to influence and genre. I grew up listening to Chet Atkins and Hank Marvin, and then got into Mark Knopfler, Adrian Smith and Dave Murray from Iron Maiden. Then Kirk Hammett, Joe Satriani, Steve Vai, Jason Becker, Greg Howe and the whole 80's scene, even though I was a kid of the 90's. (Laughs) But all of these are my influences… it's like religion. It shouldn't be forced on people; it's all down to personal preference.
HRH: What is your view on the use of the Internet to promote your work and reach to your fans?
Alan: Like everything that is good it's not without sin and it's no different with the Internet. It's a good outlet to promote work but a lot of the time you'd be better off giving it away as anything that is not physical of form can be downloaded, duplicated, manipulated and your entire life work and career is caught in the balance of illegal downloads. Yet there is always the positive side to it and it's great to get your name known and spread around via You Tube and social networking sites.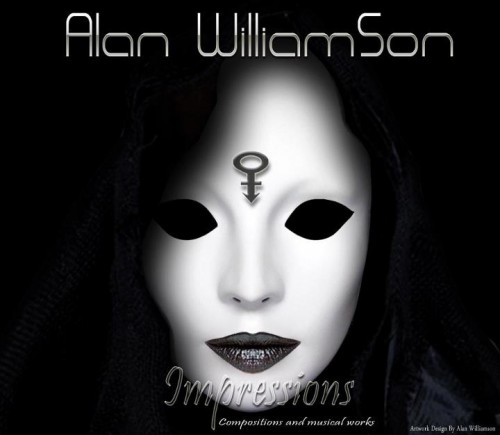 HRH: You are also a guitar teacher. What can any guitar player expect if he is getting lessons from you?
Alan: (Laughs). Just hard work! I hate laziness and idleness. If you want me to give my time to you… then you will have to triple that for me!
HRH: How would you best describe your music to people?
Alan: My music is honest! It is like good food… organic. NOT processed quality- NOT quantity and free from category. My music is open and you never know what you are going to get!
HRH: You wrote the song 'The Tree' in memory of John Winstanley and dedicated to Tommy Glenn…what more can you tell us about this song?
Alan: Tommy Glenn is an old friend of mine and we used to play guitar together years ago. One of Tommy's best friends was a great man called John Winstanley. John was a beautiful kind man who had such an artistic life and seen the world a lot more beautiful than many people ever will. He brought so much friendship and love to a lot of people in his life. John passed away and left a big hole in our lives that will probably never be filled and one such person this affected was my good friend Tommy. I used to watch Tommy's tributes on Facebook and knew he missed John a lot. So I decided to compose a piece of music that I thought was fitting. It was my own tribute to John, but I wanted Tommy to have the song so they would forever be connected. We are just people and sometimes we hurt a lot on our own… everybody has a story behind the face and I guess I just wanted to give something to them both. They have both played a part in my life I will forever be grateful to them for that!
HRH: Any plans for touring?
Alan: Depending on time and finance. I always find it difficult to find dedicated musicians who are willing to tour with me.
HRH: What are you working on right now?
Alan: I'm currently in the process of releasing my latest effort, titled Dark Matter 2012 – 2013.
HRH: Where do you see yourself in 20 years… Maybe having a blast on stage, next to Satriani or Steve Vai… comparing your guitar playing technique?
Alan: Hopefully still alive! (Laughs). I'm not a fan of comparing egos. A night out round my own town and you'll see that all the time. (Laughs) I'd hopefully like to have some longevity in my career and still be doing what I do without compromise. I'm not bothered about fame I just want to be happy in my work and still appreciate why I do this.
HRH: How would you describe the word success?
Alan: Hard work! Nobody ever became successful sitting on their arse!
HRH: As a Pro guitar master, what would be your advice for all aspiring guitarists out there?
Alan: Everything starts from the beginning, doesn't matter what you do… you will always have to have a beginning. This is the most important part of your playing as the rest of your career depends on it. Building a solid foundation is paramount as the stronger your beginning the better things will be. Have an open mind an open paradigm on your playing and the music around you Listen to anything and everything and try to absorb it even if you don't like it. You are building a frame around the picture where the picture is you and your chosen style yet you will later be influenced by other styles. Add them to your playing the key is to keep developing and don't stop even if things seem perpetual. Eventually you will break through it with perseverance and get to your next level. As Ernest Hemingway said… "We are stronger in the places we are most broken" simply meaning you will lose more in your life then you will ever gain and don't take things for granted. You have to work hard for them. The world doesn't meet people half way!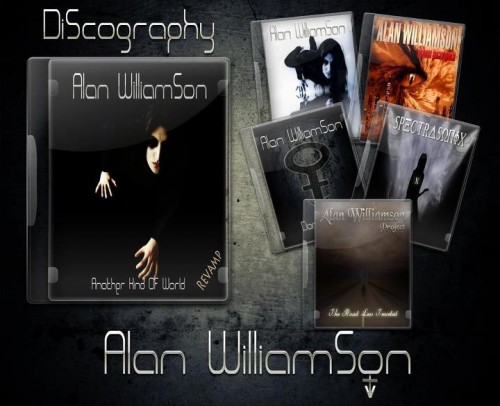 HRH: I hear you are working on a new project with your band, Krank It Up. Tell me more about the band… How did you get together and what are your plans with the band?
Alan: Krank It Up is basically a covers band. We are a three piece trio featuring Chris Gilfoyle – Bass/Vocals, Keith Cadwallender – Drums and me – guitars. We formed over three years ago now and just play local venues around the North East of England. We cover all the classic rock bands from Deep Purple, AC/DC, Metallica, Hendrix, G'N'R, Thin Lizzy, Ozzy to name but a few and we go down a storm. We were all in other bands and decided to get together and play and it took off. We never rehearse, everything is jammed on stage but we are all seasoned musicians and know the songs inside out. (Laughs).
HRH: What does it take for any player to master a guitar?
Alan: You will never master the guitar! You may get to content with your playing where you wish not to progress any further. There is and will be always something else to learn. For one, there are so many different styles of music and each has its own discipline, but there will always be more to learn and more to gain. Every single thing evolves beyond your expectation and it's because of this that you will always progress.
HRH: Thanks Alan for taking the time for this interview. Best of luck with your new record!
Alan: Thank you!
Visit Alan Williamson online at https://www.facebook.com/alan.williamson.3154.
Read Hardrock Haven's review of Impressions here.