by Nikiforos Skoumas
– Columnist —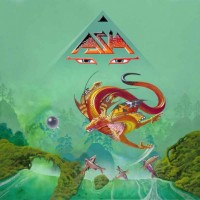 Any conversation on the subject of reformed bands that have lost none of their creativity should head straight for Asia. Asia, the British melodic rock group founded by former Yes members Steve Howe and Geoff Downes, set the foreground for '80s melodic rock with their hit single "Thrill of the Moment" effectively transcending from progressive music to a widely appealing style of rock. Fast forward thirty years and the band have just put out their 12th studio album titled XXX (a symbolism of the three decades Asia has been in existence).
XXX is the third studio album to come out of the reformed original line up of singer/bassist John Wetton, keyboardist Geoffrey Downed, guitarist Steve Howe and drummer Carl Palmer, also marking their third studio release under Frontiers Records.
Let's get this out of the way, XXX shows no evidence of Asia slowing down, featuring far more confident performances than the ones found on Phoenix and even more cohesive songwriting than Omega. The majority of the songs found on XXX make direct reference to the musical approach of their second album Alpha, where the prog element was reduced to the minimum in favor of melody/chorus driven songwriting. So you can expect that XXX wastes no time and engages the listener in a melodic rock combo from the opening power-rocker of "Tomorrow the World;" the protestant "No Religion;" the ultra-white "Faithful;" the subtle-dramatic "I Know How You Feel;" and the melancholic "Face on the Bridge," are all perfectly identifiable Asia melodic rockers. Once again the keyboards carry the vast majority of melodies and complementary harmonies while the base sets the tone of each song along with the unmistakable vocals of Wetton while Plamer and Howe further color the songs with their rhythmic/melodic input.
Truth be told, to the experienced Asia fan, XXX might come out as somewhat formulaic; yes the songwriting is stellar, but it rarely challenges or complicates matters for the listener. Still, for the majority of melodic rock fans, the perfectly defined keyboard harmonies, the clever verses and the well-rounded choruses should prove more than enough to play the new Asia any number of times. Once you get past the fact that XXX holds no technical surprises from a prog fan's perspective one is left with a top notch melodic rock album, and that is exactly what you would expect from Asia in 2012.
Genre: Melodic Rock
Line up:
John Wetton – Lead Vocals, Bass, Guitars
Steve Howe -Guitar, Backing Vocals
Geoff Downes – Keyboards, Backing Vocals
Carl Palmer – Drums, Percussion
Track Listing:
1. Tomorrow The World (6:47)
2. Bury Me In Willow (6:01)
3. No Religion (6:36)
4. Faithful (5:37)
5. I Know How You Feel (4:53)
6. Face On The Bridge (5:59)
7. Al Gatto Nero (4:36)
8. Judas (4:43)
9. Ghost Of A Chance (4:21)
Label: Frontiers Records
Website: http://www.originalasia.com/
Hardrock Haven Rating: 8.5/10