David J. Caron | Thru Ever Ending Black
by Joe Mis
– Columnist —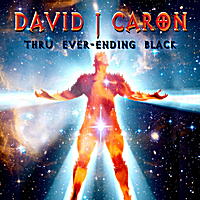 David J. Caron's debut release, entitled Thru Ever Ending Black, is an ambitious one. Not only does the Irish/Italian musician play every instrument and handle all vocals on the album, but he does so over a whopping 28-track, 2 CD release.
Caron's primary instrument is the guitar, but he handles bass, drums, keys, and vocals with equal skill, making him a mufti-instrumentalist in every sense of the term. He is also an accomplished and intelligent songwriter and producer, and he delivers modern, well produced rock with hints of classic AOR, electronica, and progressive rock. Vocally, Caron is smooth and radio-friendly, handling multiple vocal lines and self-harmonies with a deft touch. Most of the songs are guitar-driven up-tempo rockers with nice hooks and layers of neat rhythm lines. His guitar solos are usually short and to the point, with few wasted notes – truly integral to the song. Caron's bass work is excellent and driving, and he has a solid grasp of the keyboards/synths – using them well without letting them dominate. His drums are decent as well – nothing spectacular, but not lacking anything – and always appropriate to the tone and tempo of the music. Rob Mancini co-produced and engineered the album.
Musical highlights include: the great driving bass on the opening track "It Gathers;" the slick guitar work and solos of "Frozen Ice" and "Time Machine;" the driving rhythms and nicely done layered vocals of "Coming To Get You;" the geeked-out Star Trek influenced lyrics of "Memory Magnetic;" the catchy, flowing sing-along chorus of "The Knights" and "Who Are You;" the great bass work on "Wall Of Life;" the gritty near gothic riffs of "So Let There Be Light ;" and the incurably poppy rhythms of "Still Just One Moon" and "Escapin' Back." "One By One" and "The One" are the best examples of Caron's talents as a performer, songwriter, and lyricist.
If you are looking for something a little different, check out David J. Caron. Thru Ever Ending Black is a solid debut by a truly talented and charismatic musician, and is a nice melodic journey. With nothing ultra-fast or heavy, Caron's album is a pleasant modern rock release with loads of melody, varied styles, and plenty of enthusiasm. There are many well-written and well-structured songs filled with interesting imagery, catchy hooks and riffs, high concepts, and very little pretense. Fans of AOR rock, pop rock, or "singer-songwriters" will find lots to enjoy. The album is available on iTunes and physical CDs through his website.
Genre: Melodic Modern Rock
Band:
David J. Caron – all instruments and vocals
Track Listing:
1. It Gathers
2. Look Out
3. Time Machine
4. Comin' To Get You
5. Memory Magnetic
6. Feels Of Fire
7. Frozen Ice
8. Unbreakable
9. Dark Of Night
10. The Knights
11. Too Much Little Time
12. Who Are You
13. Wall Of Life
14. Beam The Ray
15. In Me
16. Still Just One Moon
17. Escapin' Back
18. One By One
19. Irreplaceable
20. Unlock It Apart
21. Final Bell
22. So Let There Be Light
23. The One
24. Has To Be
25. Legendary
26. I Am Your Shadow
27. The Tree That Waits
28. This Is Now
Label: GMG Records
Website: http://davidjcaron.com/
Hardrock Haven rating: 9/10