by Justin Gaines
– News Editor —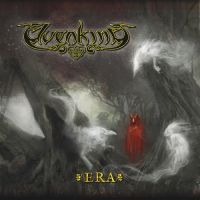 Italian power/folk metal band Elvenking hasn't had a very good track record lately. Their 2008 album Two Tragedy Poets (and a Caravan of Weird Figures) was a mostly acoustic detour, and 2010's Red Silent Tides was completely mediocre and about as far removed from the greatness of albums like Heathenreel and The Winter Wake as possible. The band seems aware of this trend, and has pulled out all the stops on their latest album, titled Era. It's Elvenking's seventh album, and features an array of guest musicians. Jon Oliva (ex-Savatage, Jon Oliva's Pain) is the most notable, but Folkstone's Maurizio Cardullo is also on board, providing whistles and bagpipes, and Netta Dahlberg provides some female vocals as well. On backing vocals, Alessandro Conti (Luca Turilli's Rhapsody), Marco Sandron (Eden's Curse, Pathosray) and Giordana Gisamano (Insanity Fair) all lend a hand.
Of course, all the guest appearances in the world won't make much of a difference if the songwriting isn't up to par. Fortunately the band seems to have found some of the energy that was missing on Red Silent Tides. Era isn't exactly Heathenreel Part 2, but the folk elements are more prominent this time around, and even the more standard power metal melodies are that much more effective this time around. Era is a power metal album more than anything else, and it's a good one at that, full of wickedly catchy melodies and vocal harmonies. The folk elements, especially Lethien's violin, are used to great effect, adding just the right accents to these songs and channeling that classic Elvenking sound.
The songs with Jon Oliva, especially "I Am the Monster," are among Era's highlights, as are the songs where Netta Dahlberg joins Damna on vocals, but it's Damna himself who turns in the most memorable vocal performance throughout the album. Other highlights are the speedier "Walking Dead," the ultra-melodic "We, Animals" and the epic "Chronicle of a Frozen Era." "Poor Little Baroness" seems like a misstep, but it's the exception to the rule on this otherwise very solid album.
This is exactly the kind of album Elvenking needed to release at this point in the band's career. Era isn't anything truly amazing or groundbreaking, but it is a very solid album in the Scythe/Winter Wake mold that shows Elvenking is still capable of releasing a good folk-influenced power metal album. If you were tempted to write this band off in recent years, this album ought to be enough to remind you why you became an Elvenking fan in the first place.
Genre: Power Metal
Band:
Aydan (g)
Damna (v)
Rafahel (g)
Lethien (violin)
Symohn (d)
Jakob (b)
Track Listing:
1. The Loser
2. I Am the Monster
3. Midnight Skies, Winter Sighs
4. A Song For the People
5. We, Animals
6. Through Wolf's Eyes
7. Walking Dead
8. Forget-Me-Not
9. Poor Little Baroness
10. The Time of Your Life
11. Chronicle of a Frozen Era
12. Ophale
Label: AFM Records
Website: http://www.elvenking.net
Hardrock Haven rating: 8/10