by Trevor Portz
– Columnist —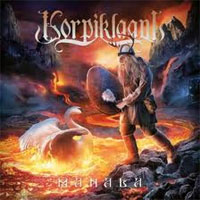 Another year, another Korpiklaani album… it would seem the masters of Finnish polka metal are intent on keeping a rigorous album release schedule rarely seen these days. If you look through the Hardrock Haven review archives, you'll see a very positive review of Korpiklaani's previous outing, Ukon Wacka, which praises the band for taking a little time off and breaking the monotonous spell that had haunted a couple of their recent releases. Sad to say, then, that this album mostly undoes that gear change, instead feeling like just another polka-fueled metal release in a huge sea of polka metal releases. Ok, maybe there are some holes in that statement, but if Korpiklaani's back catalog is big enough to be called a sea—or at the very least, a large lake—then it certainly holds true.
The problem with Manala doesn't come from the style or the performances. Sure, Korpiklaani's sound is targeted at a very specific contingent of the metal community, but no one can argue that the band has the skills to pay the bills (and accordions aren't cheap). The quality issues instead lie within the uninspired songwriting. There is virtually nothing on this album to distinguish it from any other in the Korpiklaani (or Shaman) library. If anything, it feels strangely lethargic for a band known for having an almost overwhelming amount of energy.
Has the band turned into Corp-iklaani, churning out albums just to keep the label happy and the mead mugs full?
Like Karkelo a few years back, Malana feels phoned in. Granted, this may only be noticed by long-time fans of the band. The quality performances and overabundance of pomp that makes the band unique would very likely still come across to a new listener. It is, at the very least, good enough to appeal to new fans that will then, hopefully, check out earlier releases and be even more impressed. But for those die-hards that follow the masters of the forest through all of their beer-soaked adventures, it's a little too "been there, done that." Who knows, maybe the forest nymphs have stopped donating their magic to the band. Or maybe the band has hit the "post-Promised Land Queensryche" phase of half-assed records. Hopefully neither is true, and hopefully the band's next outing will boast a little bit more of that Korpiklaani magic.
Genre: Polka, Folk Metal
Band:
Jonne Järvelä – vocals, guitar
Kalle "Cane" Savijärvi – guitar
Matti "Matson" Johansson – drums
Jarkko Aaltonen – bass
Juho Kauppinen – accordion
Tuomas Rounakari – violin
Track Listing:
1. Kunnia
2. Tuonelan Tuvilla
3. Rauta
4. Ruuminmultaa
5. Petoeläimen Kuola
6. Synkkä
7. Ievan Polkka
8. Husky Sledge
9. Dolorous
10. Uni
11. Metsälle
12. Sumussa Hämärän Aamun
Label: Nuclear Blast
Website: www.korpiklaani.com
Hardrock Haven rating: 6/10