LIVE! | Cinderella & Sebastian Bach
by Craig Newman
– Photographer –
August 3, 2012 at Pacific Amphitheater Orange County Fair in Costa Mesa, CA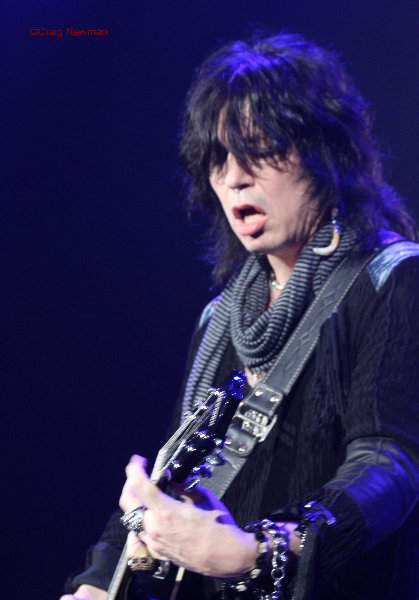 On a warm night at the Pacific Amphitheater at Orange County Fair Grounds, Cinderella and Sebastian Bach rocked the party!
Cinderella performed songs from their debut album and Long Cold Winter.
The set list included: "Once Around The Ride," "Shake Me," "Heartbreak Station," "Somebody Save Me," "Night Songs," "More Things To Come," "Coming Home," "Second Wind," "Don't Know What You Got (Till It's Gone)," "Nobody's Fool" and "Gypsy Road." The band encored with two songs, "Long Cold Winter" and "Shelter Me."
The band still delivers a high energy stage show. Tom's voice is still recognizable; Jeff's guitar playing is still shredding; along with Eric's bass playing and Fred's drumming pounding out the rhythm, the band hasn't lost a step.
Opening the show was Sebastian Bach playing Skid Row favorites such as "Youth Gone Wild," "18 and Life," "Slave to the Grind" and the new title track from the new album Kicking and Screaming. Bach had the audience out of their seats from the beginning of the set till the end. It is good to see and hear Bach is still kicking and screaming, delivering good hard rock music.
Bach's new line up for the tour is: Brent Woods (Guitar), Johnny Chromatic (Guitar), Bobby Jarzombek (Drums) and Jason Christopher (Bass)
Cinderella & Sebastian Bach Photo Gallery