LIVE! Five Finger Death Punch at Trespass America Festival
by Jonna Ambur
– Photographer –
AUGUST 18, 2012, PRUDENTIAL CENTER, NEWARK, NJ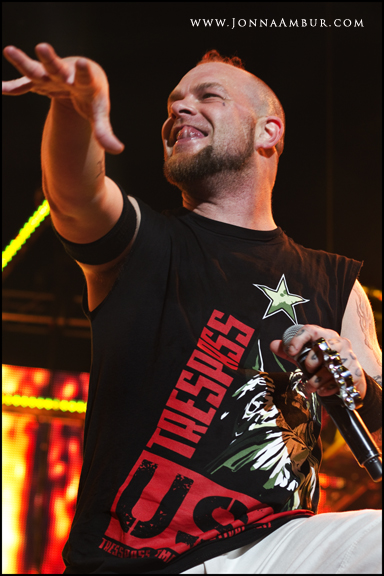 There are rock shows, and then there are KICKASS ROCK SHOWS. Five Finger Death Punch at New Jersey's Prudential Center on August 18 is as kick ass as it gets!!!
The 2012 Trespass America Festival featuring Battlecross, God Forbid, Emmure, Trivium, Pop Evil, Killswitch Engage and headliners, Five Finger Death Punch (5FDP) was an intense night of amazing performances by these seven well-picked bands, and popular opinion is that 5FDP was the standout performance of the night.
From the moment 5FDP started their intro music— the techno mix of "100 Ways to Hate" — the energy was phenomenal. Some highlights of 5FDP's show:
• Lead singer Ivan Moody brought kids from the audience up on stage for "White Knuckles." He had the kids play "Ivan Says," and they proudly displayed their "metal horns" and middle fingers because "Ivan said!" Funny, but good natured.
• An acoustic version of "Remember Everything" with Moody and guitarist Jason Hook (ex-Vince Neil and Alice Cooper bands). The whole crowd sang along.
• Kudos to Tour Manager and Lighting Director, Brandon Webster. The stage looked like a cathedral of light. Freakin' phenomenal!
• Jeremy Spencer's drum solo done in full black light.
• Ivan Moody dedicating 5FDP's set to Dimebag Darrell. A touching metal moment.
• Overheard walking out of the show: "I liked that there was a rubber mat in the pit area!" – Unknown.
You could tell the band were enjoying themselves up on stage. The guys smiled easily at each other and the crowd, and Moody is a funny guy, which made you have an even better of time.
A recent quote from Moody summed up the atmosphere, "For my entire life, I've always loved music. It's been there forever through good and bad. And the Trespass America Festival is about bringing all these fan bases together to celebrate metal and rock music!"
Well said, Moody. 5FDP For Life!
5FDP Setlist:
1. Under and Over It
2. Burn it Down
3. American Capitalist
4. Hard to See
5. Coming Down
6. Bad Company
7. White Knuckles
8. Drum Solo
9. Far From Home
10. Never Enough
11. War Is The Answer
12. Remember Everything (Acoustic)
13. No One Gets Left Behind
14. The Bleeding
5FDP AT PRUDENTIAL CENTER PHOTO GALLERY
Like Five Finger Death Punch on Facebook:
http://www.facebook.com/fivefingerdeathpunch
Five Finger Death Punch official:
http://www.fivefingerdeathpunch.com/