LIVE! | Metal Hammer Trespass America Festival
by Sara McCarthy
– Senior Photojournalist –
August 7, 2012 at Oswego Speedway in Oswego, NY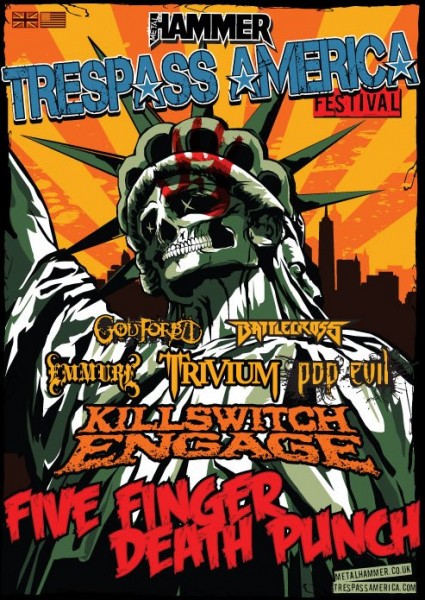 SLP Concerts and Step Up Presents are proud to present TRESPASS AMERICA with Five Finger Death Punch, a newly minted music festival set on revitalizing the metal scene with some of the most current and credible bands in hard rock/metal. A co-production with Trespass America and Metal Hammer, the biggest metal magazine in the U.K., the tour covers 31 cities in two months between July and August across the United States.
Headlining the power-packed Trespass America Festival is Five Finger Death Punch; other acts include Killswitch Engage, Pop Evil, Trivium, Emmure, God Forbid and Battlecross.
Due to production problems beyond their control, Battlecross and a handful of other bands were unable to play at Trespass America's August 7, 2012 stop in Oswego, NY. The promoters were gracious enough to allow me to photograph the bands that did play.
More info online at http://trespassamerica.com/.
Metal Hammer Trespass America Festival Photo Gallery