LIVE! | SLASH featuring Myles Kennedy and The Conspirators with Rose Tattoo
by Cameron Edney
– Guest Columnist/Photographer —
August 25, 2012 at Sydney Entertainment Centre, in Sydney, Australia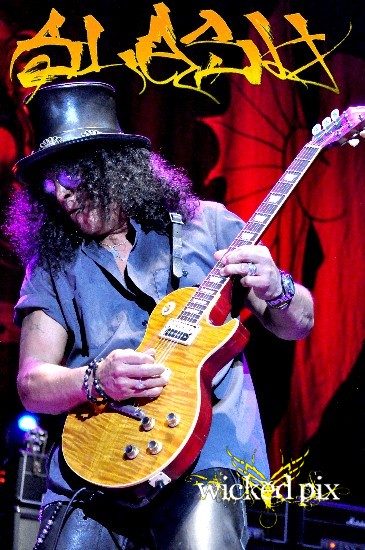 It was fantastic to see such a large crowd turn up early to the venue to secure great spots on the floor before Australian music royalty Rose Tattoo took to the stage. Selling at almost full capacity there wasn't too much room inside to move around once the lights went down and Angry Anderson and the boys took to the stage! Walking out in his signature black Rose Tattoo vest and drinking from a bottle of Wine, Angry was in fine form, happy and rockin! Kicking off their thirty-five minute set with 'One of the Boys,' the crowd were on their feet and rocking out to every bar of every song! Key favorite amongst the crowd were of course 'We Can't Be Beaton,' 'Bad Boy for Love' and my favorite 'Rock n Roll Outlaw' I truly believe that Rose Tattoo are one band that every Australian needs to witness live not once but as many times as possible as to date I'm still to see these guys put on a bad performance! When I found out Rose Tattoo would be opening up for Slash I knew that this was going to be an incredible night.
Up next was the man everyone came to see SLASH! As the houselights went down and the bands introduction was yelled out the crowd went crazy! The roar of the crowd was something I hadn't heard in a long time, loud, very vocal and pumped up ready to rock n F**kin roll! Casually walking out onstage Slash, Myles Kennedy and the Conspirators kicked off the show with 'Halo' followed by a Guns n Roses classic 'Nightrain' and one of the singles of Slash's last all-star solo album 'Ghost.' The crowd loved it and the band was feeding off that! Slash was all over the stage with Chuck Berry style moves, spinning around and working the stage as he has done so well for so many years! Vocalist Myles Kennedy once again went above and beyond when covering some of the tracks in the Slash back catalog not to mention the brilliant job on all his collaborations with Slash over recent albums. There is no doubt that Myles Kennedy is by far one of the finest rock vocalists of our time, the perfect front man with an outstanding voice and character!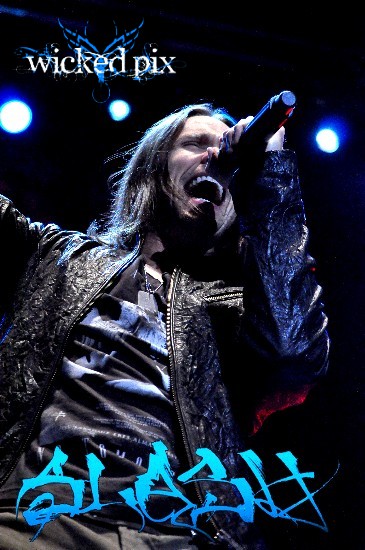 Not leaving out the Conspirators… Guitarist Frank Sidoris was amazing to watch onstage he worked the crowd like al rock guitarists should, to Frank's left was bassist Todd Kearns who put on the best performance I have seen him do yet! His playing was flawless; his stage persona up a few notches from the previous tour and taking on vocal duties for two songs a fantastic move! Singing lead vocals on 'Doctor Alabi' and 'Out Ta Get Me' Todd just like Myles had the crowd rocking and singing along and to be honest Todd's version of 'Out Ta Get Me' was definitely one of the highlights of the show for me! Providing the beats once again was the brilliant Brent Fitz and although Brent had been suffering from some back and neck pain earlier in the day, he did a phenomenal job bashing away behind the kit.
Playing a solid two-hour set list that comprised of songs from Slash's Snakepit, Guns n Roses, Velvet Revolver and Slash's solo work there isn't anything I can say to fault this performance! I have seen Slash and Myles perform together on the past three Australian tours and this was by far the best show I've seen them put on! The Sound was great, lights were great and the confetti cannons that exploded during the end of 'Paradise City' just topped of the total rock n roll concert experience.
For me some of the standout tracks were 'Beggars and Hangers On,' 'Starlight,' 'No More Heroes,' 'Fall to Pieces,' 'Out ta Get Me' and 'My Michelle'.
If you get a chance to catch Slash, Myles and the Conspirators on this tour take it! You will not be disappointed, this is Rock n F*#kin Roll at it's very best!
Rose Tattoo Set List:
One of the Boys
Man About Town
Rock n Roll is King
Scarred for Life
Rock n Roll Outlaw
Juice on the Loose
We can't be Beaton
Bad Boy for Love!
Slash's Set-List:
Halo
Nightrain
Ghost
Standing in the Sun
Back From Cali
My Michelle
Beggars & Hangers-On
Not for Me
Rocket Queen
Doctor Alibi (Todd Kerns on vocals)
Out ta Get Me (Todd Kerns on vocals)
Crazy Life
No More Heroes
Starlight
Guitar Solo / Godfather Theme
Anastasia
Sweet Child O' Mine
You're a Lie
Slither
Fall To Pieces * Encore
Paradise City * Encore
Slash Photo Gallery
no images were found