Loverboy | Rock n' Roll Revival
by Justin Gaines
– News Editor —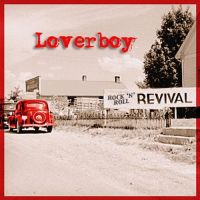 It's been five years, but Canadian AOR mainstays Loverboy (yes, the Loverboy that worked for the weekend and briefly made red leather pants seem like a good idea) are back with a new studio album… sort of. For their latest offering, the first since 2007's very underrated Just Getting Started, the band serves up just three brand new songs alongside nine re-recordings of previous Loverboy hits. Not quite what fans were hoping for, but new Loverboy tunes are always a good thing, and if done right even re-recordings can be fun.
Rock n' Roll Revival is the title of this collection, and given the recent surge in popularity of the '80s AOR bands (and some very successful tours alongside Journey and similar bands), it's a good name for a Loverboy collection. The album gets started with the new songs, all of which are produced by the legendary Bob Rock (Metallica, Bon Jovi, Aerosmith). It opens with the title track, an upbeat rockin' number that harkens back to Loverboy's signature early '80s style. The mellow quasi-ballad "No Tomorrow" comes next, followed by the up-tempo (and surprisingly sweet) "Heartbreaker," both of which fit the more relaxed and soulful vibe of Just Getting Started. These new songs are very strong, very catchy, and worth the price of admission.
Sadly, the rest of the album – the majority of the album – is where Rock n' Roll Revival stumbles. With their studio albums still in print and countless greatest hits packages on the market, was there really any need for another look at Loverboy's hits? It doesn't help that the band doesn't really sound all that motivated or excited to be playing these songs yet again. Working for the weekend? Mike Reno sounds tired enough to barely convince us he's working for Wednesday night. The rest of the songs don't fare much better, but "Lovin' Every Minute of It" is another low-light.
If this was a full album that mirrored the strength of the first three songs, Rock n' Roll Revival would have earned a much higher rating. Instead it just feels like a missed opportunity. Obviously the die hard Loverboy fans are going to want to check this out, but even they ought to consider skipping this album and simply downloading (legally, of course) the three new songs.
Genre: AOR, Melodic Rock
Band:
Mike Reno (v)
Paul Dean (g)
Doug Johnson (k)
Matt Frenette (d)
Ken "Spider" Sinnaeve (b)
Track Listing:
1. Rock n' Roll Revival
2. No Tomorrow
3. Heartbreaker
4. Turn Me Loose
5. Working for the Weekend
6. Lovin' Every Minute
7. The Kid Is Hot Tonight
8. Lucky Ones
9. Always on My Mind
10. Queen of Broken Hearts
11. When It's Over
12. Hot Girls in Love
Label: Frontiers
Website: www.loverboyband.com
Hardrock Haven rating: 6.5/10